Lansing, Michigan, USA
Design, Engineering, Manufacturing & Customer Support Center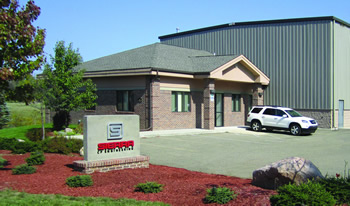 Sierra-CP
16475 Ingersoll Road
Lansing, MI 48906
USA
Phone: 517-323-8909
Cell: 517-525-6133
Email: info@sierra-cp.com
Opened in January 2012, Sierra's Lansing, Michigan design, engineering and customer support center has grown over the last 3.5 years in support of its mission to provide the highest level of local support to customers in the region. The facility is located on 5 acres and has an approved future expansion of a 20,000 square foot facility. The Lansing facility is ideally located for rapid response service to customers with an inventory of spare parts and trained service and support staff.
Making New Facility Construction Run Smoothly
Sierra uses the Lansing facility for engine and vehicle test equipment fabrication and project management for new test facility build-outs. Ground was broken last year on a completely new diesel engine test and certification facility in Ohio. The project was completely managed by Sierra Michigan with support from our Sierra UK team.
Lansing facility Operations Manager, Kirk Pier, says it best: "We could be on site in a few hours by car and oversee the project very conveniently. Build outs and fabrication could be done at Sierra Michigan and put into the Sierra trailer for delivery to the customer."
Building Our Team
A recent addition to the Michigan team is Mike Brown, an engineer with a wealth of experience in the automotive industry. Mike is in charge of business development the region and has already been very active in seeing many customers.