Official Blog of Sierra--Let's Talk Flow!
---
Nov 23, 2015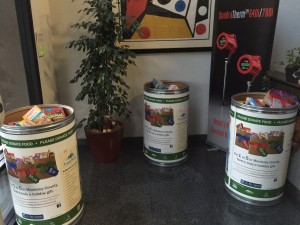 Fall is in the air.  It's that time of the year when the days grow shorter and the weather transitions from summer to winter, the air taking on that crisp cold chill that seeps into your bones. Fall is a time of change, of reflection on the past year, and planning for the future. It's also a time of the holidays, a reminder for us to be thankful and grateful for what we have.
However, there are many who have little and cannot provide even the basics for survival. One-fifth (or 90,000 people) of California's, Monterey County's population is in need of food annually.
Being compelled to give, we contacted Monterey County Food Bank and started a food collection drive at Sierra's Global Headquarters in Monterey. We started November 2 and by November 13, we had filled four barrels full of non-perishable food. This food is distributed annually throughout the year to the area's most needy children, families and seniors.
What was amazing about this process was the simplicity in getting it started and implemented. It was one phone call, getting approval for the event, and creating a poster advertising the event to drive positive change in our community. This allowed us together to each give a little bit of food in order to feed many families for the upcoming year. Way to go Team Sierra!
As individuals, we have an opportunity to give back to our communities during this time of year in order to ignite positive change in the world. By this one small act of kindness, we uplift humanity and inspire others so they may in turn create good in the world. How can you give back in your community? Share your comments!
---