Official Blog of Sierra--Let's Talk Flow!
---
Nov 09, 2013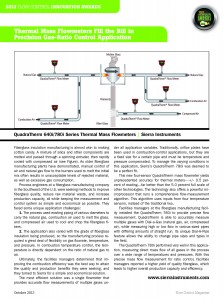 Solving difficult manufacturing process problems is one of our specialties here at Sierra. Case in point? Process engineers at a fiberglass manufacturing company in the Southwest of the United States were seeking methods to improve fiberglass quality, reduce raw material waste, and increase production capacity, all while keeping the measurement and control system as simple and economical as possible.
Ultimately, the facilities managers determined that improving the combustion efficiency was the best way to attain the quality and production benefits they were seeking, and they turned to Sierra for a simple and economical solution. The most efficient solution was a single thermal flow meter that provides accurate flow measurements of multiple gases under all application variables. Traditionally, orifice plates have been used in combustion-control applications, but they are a fixed size for a certain pipe and must be temperature and pressure compensated. To manage the varying conditions in this application, Sierra's QuadraTherm 780i was deemed to be a perfect fit.
It comes as no surprise then that Flow Control Magazine has once again recognized Sierra's groundbreaking flow solutions with a 2013 Innovation Award. As stated in the article, facilities managers at the fiberglass manufacturing facility installed the QuadraTherm 780i to provide precise flow measurement. QuadraTherm is able to accurately measure multiple gases with Dial-a-Gas (natural gas, air, compressed air), while measuring high or low flow in various-sized pipes with differing amounts of straight run. Its unique Dial-A-Pipe feature allows the ability to change pipe sizes and types in the field.
As Flow Control noted, the QuadraTherm 780i performed very well in this application, measuring direct mass flow of all gases in the process over a wide range of temperatures and pressures. With this precise mass flow measurement for ratio control, facilities managers reported a higher yield of quality fiberglass, which leads to higher overall production capacity and efficiency.
We can help increase your efficiency, too. Contact us today to find the right flow meter solution for your application.
---