Official Blog of Sierra--Let's Talk Flow!
---
Mar 13, 2013
Our engineering team has worked tirelessly to bring to fruition a mass flow meter that provides you, our customers, with greater accuracy and increased efficiency, and our new QuadraTherm 640i/780i thermal mass flow meter is the result.
You can imagine how pleased our team was to learn that the Quadratherm flowmeter has been named a Gold Winner in Gases & Instrumentation Magazine's Golden Gas Awards! We're pleased that years of hard work and innovation has been recognized, and we're also proud that the QuadraTherm 640i/780i mass flowmeter marks a turning point in thermal dispersion technology.
Now we can offer you, our customers, a new level of flow meter measurement accuracy, ultimately saving money and increasing plant efficiency.  Congratulations team!
Gold Winner of the 2013 Golden Gas Award for Innovation in Gas Flow Measurement & Control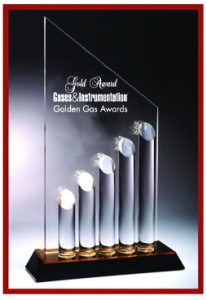 Learn about the innovation history of  the QuadraTherm640i. Watch videos.
---