Official Blog of Sierra--Let's Talk Flow!
---
Jun 05, 2015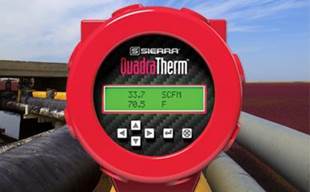 For the first time, customers can adjust their gas composition in the field on thermal flow meters to solve EPA reporting challenges. When gas composition changes, typical thermal meters must be sent back to the factory to be re-calibrated in order to maintain required accuracy levels.  All of this is a costly, time consuming endevour.
Imagine the time and money you can save by not having to send your meter back to the factory for calibration every time your gas composition changes?
Now, for the first time, oil/gas engineers can field-adjust gas composition on thermal mass flow meters for flare, Vapor Recovery Units (VRU), and storage vessels with Sierra's QuadraTherm with NEW qMix gas mixing software. The  QuadraTherm with qMix allows end users to manage gas composition changes in the field right from the Smart Interface Program (SIP) without ever sending the flow meter back to the factory to recalibrate the meter for the new gas composition. This makes meeting evolving government regulations and reporting easy for oil/gas engineers and operators.
Qmix is Powerful yet Simple
Sierra's new gas mixing software package included with every QuadraTherm thermal mass flow meter on a beta trial basis is a unique feature of the Smart Interface Program (SIP) unlike anything available on the market for industrial mass flow meters.
Benefits of QuadraTherm with qMix
QuadraTherm with qMix Gas Mixing Software allows end users to:


qMix is included with every QuadraTherm mass flow meter


Field adjust and maintain flow meter accuracy if gas composition changes


Avoid costly recalibration: No more need to send unit back to the factory if gas composition changes


Quickly create and upload unlimited gas mixtures onto one meter–free of charge


Save custom gas mixtures onto your personal "My Gases Database" for later use


Benefit from Sierra's proprietary, ever-improving "Sierra Gas Database" to download more accurate gases


Sierra's QuadraTherm with qMix is the perfect solution for challenging upstream production applications.
---