Official Blog of Sierra--Let's Talk Flow!
---
Dec 20, 2012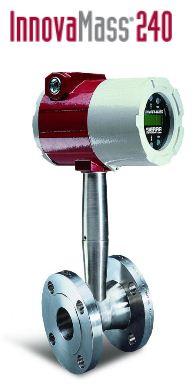 It all starts with measurement, then you can manage costs efficiently.  Only use as much natural gas, water and steam as your process needs and improve inefficient sub-processes.  Fluid flow is expensive; precision measurement improves the bottom line profit of your business.  Here are a few examples of flowmeters commonly used in industry to reduce operations and maintenance costs.
Multivariable mass vortex flow meters, like the InnovaMass 240 pictured right, are the "Jack of All Trades" in the flowmeter world.   Ideal for steam, natural gas and liquid measurement, today's multivariable mass vortex meters tell you more about your process flow than ever before.  One compact meter and one process connection reads FIVE process parameters at the same time to simultaneously measure mass flow rate, temperature, pressure, volumetric flow rate, and fluid density.  Save big money on installation as well as elimination of the need for a multatude of other instruments.
New technology QuadraTherm™ 780i thermal mass flow meters have recently emerged that measure mass flow rate, temperature and pressure, so they fall into the multivariable category as well.  Another real savings with this technology is the price to accuracy comparison.  In other words, how much accuracy do I get for the money.  Natural gas and compressed air in a facility is expensive, higher accuracy means less unneeded gas usage, improved productivity of the facility, and a lower utility bill.   At 0.5% of reading accuracy on gases, QuadraTherm can be as much as 5x lower in price (depending on pipe size) compared to a comparable Coriolis meter and has the added advantage of low pressure drop and very low flow gas measurement capability.
I also want to mention the impact of precise natural gas measurement to heaters and boilers to increase efficiency which adds up to big energy savings as well as compliance to new regulations for burning natural gas in commercial boiler applications.
Ultrasonic flow meters deliver highly accurate and repeatable flow measurement for water at a significantly reduced cost in HVAC, irrigation, and other water applications.  The InnovaSonic® 203 is packaged in a lightweight polycarbonate IP65 housing and includes clamp-on encapsulated IP68 sensors that are easy to install and require no pipe cutting, thereby reducing installation and labor costs.
Learn more: See all operations and maintenance cost reduction flow meters in one place. Also, find out how you could slash your facility's natural gas costs by thousands in our sub-metering infographic.
---