Partial Flow + Direct Exhaust Metering for Light Duty Emissions
Put CVS in your rear view mirror, find a better way forward with Partial Flow!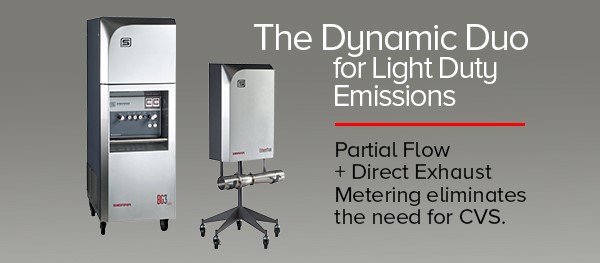 Light Duty Emissions Sampling
Historically, recommending raw sampling methods over CVS for light duty vehicle testing was problematic due to the need for raw exhaust mass flow measurement. Today, with breakthroughs in direct raw exhaust mass flow measurement, this problem is solved.
The premise of a technically equivalent, commercially available replacement of CVS by partial flow PM and raw or dilute gaseous emissions sampling methods for Light Duty is fully satisfied by the Sierra's BG3 Partial Flow Dilution System and ExhaustTrak Direct Raw Exhaust Flow Meter. View Diagram...
The Sierra BG3 Partial Flow Dilution System has been in production since 2003, has been involved in official engine certification and DF tests and multiple independent studies since its inception. Data provided from BG3 was the primary enabler for the inclusion of PFD in 40CFR 1065 for transient cycle certification. Learn more...
The Sierra ExhaustTrak, in production since 2014, is a highly capable and flexible exhaust mass flow meter with flow turndown capability consistent with competitive systems. It is available in a wide range of sizes and flow capacities. ExhaustTrak measurement accuracy, as shown during independent studies, is on par with, or better than, competitive units, while possessing significantly higher tolerance to heat. Learn more...
The Dynamic Duo
When the BG3 and ExhaustTrak work together, great things happen. BG3 provides the accurate and repeatable Partial Flow Dilution (PFD), but it needs ExhaustTrak to resolve temporal and dispersion flow rate offsets versus intake air by measuring real time mass flow at the emissions sampling zone. The ExhaustTrak mass flow rate signal enables improved PFD proportional sampling, produces output in engineering units to the host, meets 1065 accuracy and linearity requirements, and has a fuel H/C input while direct O2 measurement allows for real-time exhaust molecular weight compensation. Read more...

The Case for Light Duty Partial Flow PM
PFD systems are allowed in 40 CFR 1065 for use on transient and steady-state certification cycles. CARB introduced the LEV-3 PM limits in 2013, requiring compliance to a 3mg/mi standard, phase-in starting in 2017 and 1mg/mi phase-in beginning 2025. There were concerns centered on observed PM signal-to-noise ratio (precision) at the LEV-3 PM emissions limits, contributed in-part through sample-wall interactions (adsorption, desorption, re-entrainment). The comparative difficulty and cost inherent in remediating a contaminated CVS versus using PFD exacerbated these concerns.
Initial Questions/Points:
Is mass still a defensible metric for Light Duty particulate?
Is CVS still a technically legitimate system for very low PM measurement?
Is raw PFD a legitimate/advantageous alternative for Light Duty PM?
CRC E-99-1 and -2 research programs focused on solutions to very low LD PM measurement concerns
The use of PFD showed significantly lower tunnel blank values
Research:
Now completed, Coordinated Research Council (CRC) E-99-1 and -2 research programs focused on solutions to very low LD PM measurement concerns. The use of PFD showed significantly lower tunnel blank values
Raw vs. Dilute:
Why would an engine test/development organization use CVS? CVS is a larger, more expensive, less flexible, less precise method for light duty gaseous and PM emissions sampling, whether in-vehicle or bare engine. Partial Flow is a technically superior, legally compliant option, with full technical support.
We're sorry, your filter request has no results. Please try again.