Request Technical Data
Particulate Matter Testing
BG3 Partial Flow Dilution Emissions Sampling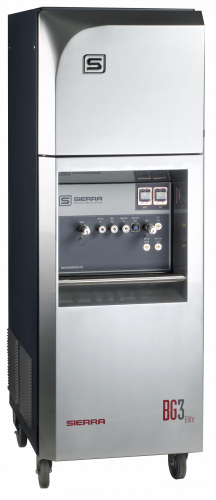 In 2011, BG3 PFD technology became the first non-CVS system in history to be certified by the EPA for use in the certification and compliance of on-road engines. Learn more..
Today, the BG3 Elite Series for partial flow dilution (PFD) is the standard used to test and measure particulates by such industry giants as Caterpillar, John Deere, Perkins, JCB, and even the US EPA, and has found a global installed base of hundreds of units.
On January 7, 2011, Sierra made history with the Model BG3 when PFD technology was signed into law for particulate matter (PM) emissions sampling to ensure diesel engines meet regulations. The United States Federal Register legally recognizes PFD as an alternative method to CVS in 40 CFR part 1065 for engine certification. Learn more...
The BG3 continues to make inroads to new, exciting, and much more vast auto markets such as light duty.
Particulate Testing Features
Particulate test any size/type engine, any fuel
Transient and/or steady-state testing
Accuracy and repeatability over a wide range of dilution ratios
Documented gravimetric correlation to CVS
Measure particulate matter either pre- and post-catalyst and/or DPF for research or DF testing
Satisfies IS0 8178 & 16183, 40 CFR Part 89, Euro 3, 4, 5 & 6
Supports light-duty bag sampling and Euro6 PN
Protected by 13 United States patents
Patented PFD dilution tunnel has ultra-low particulate loss, no cleaning
Outstanding transient sampling fidelity
Internal flow systems quality check via daily mirror calibration method
Interface AirTrak intake air mass meter
Interface ExhaustTrak raw exhaust mass meter
Energy Savings and Portability
Low maintenance, no need for cleaning
Approximately 1/10th of HD CVS system cost of ownership
Approximately 1/100th to 1/1000th the annual energy usage of HD CVS
Small footprint, portable from cell to cell to maximize flexibility and ROI
Background of Testing Particulate Matter
In the early 1970s, the U.S. Environmental Protection Agency was formed in response to growing national concern about air quality.
It wasn't long before the EPA developed emissions regulations that targeted the impact of diesel engine exhaust and set tough regulatory standards for engine manufacturers to develop much cleaner engines. Auto and light-duty engine makers needed an instrument that could be used in measuring the quantity of particulate matter in engine exhaust. Expensive and cumbersome full-flow Constant Volume Sampling (CVS) systems, the size of a city bus, were the only measuring device the EPA would accept data from.
How Do You Measure Particulates with Higher Precision?
In 1991, Rob Graze, Senior Engineering Specialist at Caterpillar in Peoria, Illinois, contacted Sierra with a proposition that would answer the question, how do you measure particulates with higher precision?

Familiar with the successful relationship Sierra had forged with Caterpillar in the 1980s as a provider of gas mass flow meters and controllers as well as Sierra's particulate test measurement background, he suggested a new exclusive instrument development partnership based on his patented radial inflow exhaust dilution tunnel technology, now called Partial Flow Dilution (PFD). Sierra saw great potential in co-developing a PFD alternative to CVS that could significantly reduce the cost and greatly improve the productivity of engine exhaust sample testing for measuring particulate matter.
Innovation and Teamwork
Within 12 months, the first BG1, a refrigerator-sized, highly efficient, accurate and cell-to-cell portable PFD system for the steady-state measurement of engine particulate matter sampling was testing non-road engines at Caterpillar for a fraction of the cost of CVS systems. Three years later, Sierra introduced its upgraded BG2, which could perform more precise and accurate steady-state particulate measurements.
In 2002, led by Matthew Olin, now Sierra's CEO, and teaming with technology partners Rob Graze of Caterpillar and CP Engineering (CP was acquired by Sierra to form Sierra-CP Engineering in 2011) to successfully develop the BG3, a revolutionary advancement that was capable of both steady-state particulate matter test measurements for non-road engines and transient PM measurements for the much larger on-road diesel market.
At the heart of BG3 was the state-of-the-art CADET Automation Software, which drove every aspect of the BG3 system and was flexible enough to allow for custom applications. By 2010, the BG3 was recognized as the world's leading PFD technology, proving that testing particulate matter didn't need to be cumbersome or result in or inaccurate measurements. On January 7, 2011, Sierra-CP made history, when PFD was signed into law and included in the United States Federal Register as a legally recognized alternative method to CVS in 40 CFR part 1065 for engine certification.
In 2013, a higher-performance version was introduced as a next-generation transient partial flow dilution system called, BG3 Elite (Pictured Above). The Elite is refined for applications requiring 47mm filter media such as Part 1065, and combines smaller, more precise flow control valves and flow measurement components with an upgraded pressure transducer suite to build on its industry-leading technology base. Sierra-CP's proprietary Cadet V14 software is being introduced on the Elite product, along with a patented feature that actively controls diluted sample to an off-board measurement device, while simultaneously maintaining Part 1065-required metrics for proportionality and filter face velocity required for gravimetric sampling.
Find out more about particulate matter testing with more accurate results. Contact us today.