Request Technical Data
Powertrain & Vehicle Research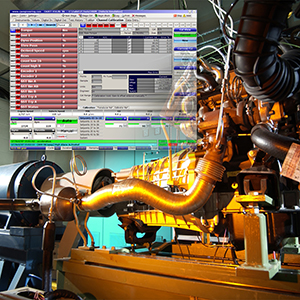 The PVRU, the renowned Powertrain and Vehicle Research Unit at the University of Bath in the United Kingdom, decided to re-equip their engine test cell machines to expand capabilities for automotive dyno testing. They conducted an extensive market survey of test cell data acquisition and control systems, and chose to work with Sierra-CP based on their flexible problem-solving approach, open hardware and software, and cost-effective solutions for dyno tuning.
Dyno Machine Selection Challenges
The work the university typically conducted for government organizations and OEMs demanded an extremely open system that could handle a wide variety of dyno test applications immediately, and, more importantly, far into the future. Given the nature of their work relating to car dyno tuning and testing, they often literally didn't know where their research was going next. As a result, flexibility had to play a key role in the development of test scheduling capacity, instrumentation, and CP128 I/O Datalogging capability. They required a long-term automotive dyno partner that could help them fine tune and future-proof their systems.
Dyno Test Solution
A deep understanding of their requirements was the fundamental starting point for Sierra-CP. They initiated the project by installing a low inertia dynamic dyno that could simulate real-world conditions those operating a car would encounter. A more compact version of CADET V14 Test Automation System was developed called CADET V14 Compact.
"We chose their impressive machines and software on the basis of flexibility, ease of customization and affordability," said Dr. Chris Brace, Research Deputy Director for the PRVU. "But equally important was our working relationship with CP Engineering (Now Sierra-CP Engineering). Their extensive engineering capabilities, expert product support and innovative approach to new product design gave us the confidence that our investment would be of lasting value."
The dyno machine build-out also included two AC dynamometers, FuelTrak fuel flow meters and Engine Environmental Controls. In addition, a combustion analysis software suite was installed to help keep them at the forefront of the automotive dyno industry. "Our ability to perform complex and exacting experimental work has increased greatly and contributes directly to our international reputation for advanced car powertrain research," added Dr Brace.
Sierra Equipment Used:
Array of Interfaces to Third Part Instrumentation
Combustion Analysis System