Exhaust Back Pressure Control
Air Control Valves
Exhaust and inlet air pressure simulation
Fast-acting, compact design
Operates in any plane
Easily adaptable to a variety of exhaust systems
Different diameters available
Overview
Sierra's range of exhaust back pressure valves and air valves are fast acting stainless steel butterfly valves ranging from 2" to 8" diameter (larger on request). Each valve is controlled by an electronic actuator.Use this high performance valve to adjust and simulate the effective pressure drop of the test bed inlet and exhaust system.
Applications
Simulation of pressure drops:

Exhaust back pressure
Turbo pressure simulation
Filter restriction simulation
Ambient pressure reduction

Transient control
Simulation of exhaust system back pressures
Transient control of back pressures
Compliments Combustion Air Handling Unit for controlling effective engine ambient pressure
Emissions work
Research and development work
Can also be used for inlet air regulation, such as air filter simulation
The valves are supplied with closed loop control modules, which adjust the position of the valve in response to a 0-20mA control signal. Closed loop pressure control can be achieved by installing a pressure transducer into the intake/exhaust ductwork. The signal from the pressure transducer (not supplied) can then be read by one of the CADET V14 fast analog channels, or by a third party control system, integrated into a control loop and the valve position adjusted accordingly.
Specifications
The specification for the various sizes of valves and electrical requirements are detailed below.
Please note the following:
Diameter D is the inner diameter of the flange
Flange thickness is 8mm for 4" to 8" valves
The 2" valve uses a V-clamp coupling system, instead of a bolted flange and is cable driven to minimise weight and size
Exhaust and air valves have nominally the same design, with the exception of the distance between valve and actuator, which is larger for exhaust valves, the air valves are also fitted with a stem sealing bush.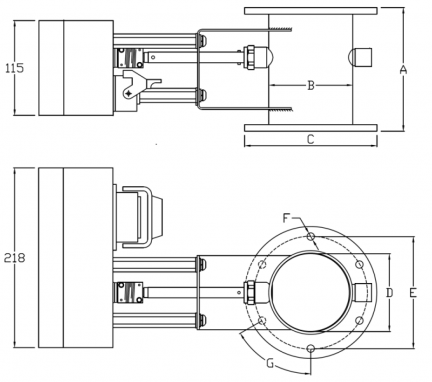 Valve Sizes

2"

4"

5"

6"

8"

Maximum Recommended Airflow
m3/hr
500
1,500
2,500
3,500
6,500
Dimension A
mm
70
150
200
200
240
Diameter B (Nominal)
mm
60
102
135
168
224
Diameter C
mm
75
160
210
260
290
Diameter D
mm
50
96
127
161
215
Diameter E (PCD)
mm
-
136
175
230
256
Diameter F
mm
-
9
11
9
10
Angle G

°

-
60
60
45
45
Weight: (with Actuator)
kg
4.2
6.7
8.8
11
12

Other Specs

Max Air Temperature Exhaust, Air

°C

800,100

Response Time

ms
120

Valve Speed (0-90 degrees)

ms
150
Electrical Requirements
Closed loop positional control module (CADET systems already provide these signals as standard)
| | | |
| --- | --- | --- |
| Signal Type | Unit | Value |
| Positional Control Signal | mA | 0-20 |
| Positional Feedback Signal (Not Required for Control) | mA | 4-20 |
| Shutdown Signal (If removed valve returns to fully open, assuming the AC supply is active) | V DC | 24 (at 40mA) |
| Power Requirement | V AC | 110/230 ±10% (Specify on Order) |
System Description
Valves actuated by the AV12 actuator which consists of a permanent magnet DC motor, which is driven through a worm reduction gearbox.
Actuator position feedback is provided by an internally mounted servo potentiometer within the AV12, which is directly coupled to the output shaft.
The unit is very easy to install in existing ductwork due to its compact size.
A single electrical loom between the actuator and the OM22 control module is required which connects via a splash-proof connector.
The actuator can be mounted in any plane, however Sierra recommends the actuator is mounted to the side, to reduce heating effects from the exhaust system.
The valve is constructed entirely from TIG Welded stainless steel
Actuator is rated to IP55 to provide sufficient protection for most environments in test cells.
The 2" valve can be supplied with a high pressure insert to further reduce the bore of the valve for precision control for low flowing applications, such as single cylinder engine testing the half round shaft then effectively becomes the butterfly.