Raw Exhaust Mass Flow Metering
ExhaustTrakTM Venturi Flow Meter
Go direct to the sample zone
Patented pressure averaging rings for zero contamination
Eliminating need for chemical mass balance methods
Meets or exceeds US EPA 40 CFR Part 1065
BG3 with ExhaustTrak replaces full flow CVS for Light Duty- Learn more
Content Sections:

Overview
Product Benefits
Specifications

---
Overview
Discover the benefits of direct in-situ exhaust measurement with ExhaustTrak. With our roots in flow measurement and automotive test, Sierra was in the ideal position to develop ExhaustTrak, an innovative spin on a venturi flow meter technology that solves one of today's greatest flow measurement challenges.
Major Breakthrough
Joining ExhaustTrak with the BG3 Elite Partial Flow Sampling System creates a major breakthrough as a "Dynamic Duo" is formed. BG3 Elite and ExhaustTrak, working together, are a technically equivalent, commercially available replacement of full flow CVS systems for partial flow PM and raw or dilute gaseous emissions sampling methods for Light Duty. Learn more...
BG3 Elite provides the accurate and repeatable Partial Flow Dilution (PFD), but it needs ExhaustTrak to resolve temporal and dispersion flow rate offsets versus intake air by measuring real time mass flow at the emissions sampling zone.
Measure Direct, Get Real Benefits
Eliminates need for chemical balance mass methods
Eliminate flow-related bias
Resolves temporal offset vs. intake mass sources through direct measurement sampling zone
Exhaust flow measurement is a critical input to emissions sampling
The direct method is the only solution to improve accuracy and repeatability
Lower cost, real-time
Legal and accurate
No sensitivity to upstream pneumatic capacitance
Best option for raw transient emissions measurement
ExhaustTrak is designed to satisfying customer requirements for a rugged, accurate and fast solution for direct exhaust mass flow measurement. The mass flow meter is specifically designed for transient cycle flow rate measurement and can measure the mass flow rate of intake air flow, diluted exhaust, raw exhaust (pre or post-aftertreatment), or crankcase combustion fumes, since instrumentation pressure line plugging issues no longer exist.
Taking clues from our use of porous media (sintered stainless steel) in our patented partial flow dilution tunnel utilized by the BG3, we use circumferential porous media as pressure interface material to elevate subsonic venturi flow meter technology to a whole new level. The design provides fully averaged radial pressure sampling at the throat and the inlet locations. Flow inaccuracies due to velocity profile skew are minimized.
As a result, straight length requirements for installing the ExhaustTrak are relaxed, as it is nearly immune to bias effects created by bend-induced swirl.
Challenges of Direct Exhaust Measurement
Hight Temperature
Moisture
Pulsations
Turndown
Pressure Drop
Particle-Laden Gases
Product Benefits
Eliminates need for chemical balance mass methods
Provides accurate, real-time exhaust mass results
Meets or exceeds US EPA 40 CFR Part 1065 requirements
Rugged, accurate, & fast – excellent for transient & steady-state testing
Sub-Sonic Venturi Technology (Patent Pending)
Measurement of particle-laden exhaust streams applicable to raw or diluted exhaust, crankcase fumes or combustion air
More Benefits
Eliminates instantaneous emissions error contributions due to indirect vs. direct exhaust mass flow determination
Fuel H/C input, direct O2 measurement capability allows for increased accuracy with real-time exhaust molar weight compensation
Proportional analog signal output for PM sampling devices such as BG3 PFD
AK digital communication for host integration
Fully averaged radial pressure sampling
Porous media as pressure interface
No plugging issues
Reduced straight length requirements
Wide range of flow rate capabilities available
Specifications
Venturi Size - 1-inch to 8-inch OD Standard
Absolute Pressure: up to 200 kPa Standard
90% of pressure differential recovery
Tempeature: up to 850°C Standard

Maximum Flow Rates (500°C, 1 atm):
50 kg/hr - 6000 kg/hr Standard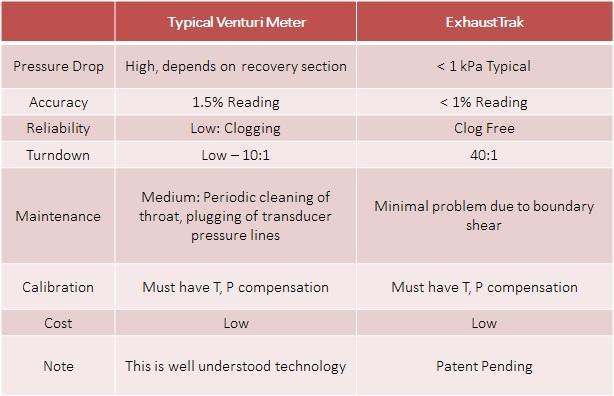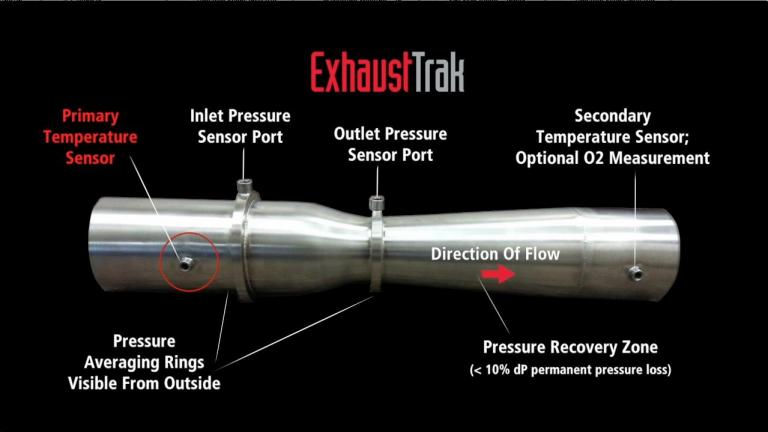 Download ExhausTrak Quick Information Sheet