FuelTrak Automotive Fuel Flow Meters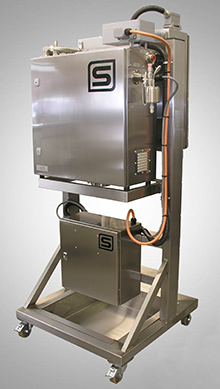 Our FuelTrak 1000 / 3000 / 9000 steady-state gravimetric fuel measuring systems are proprietary high-precision instruments designed for measuring specific fuel consumption of petrol and diesel engines up to 1000kW, 3000kW and 9000kW respectively. All wetted parts in our FuelTrak family of fuel flow meters are high-grade stainless steel, enabling any variety of reference and/or unusual fuel to be used.
The main components of the FuelTrak fuel diesel flow meter include the compact 316L stainless-steel fuel weighing chamber, electronic control unit, fuel fill solenoid valve, CP128 Control System, and the connection loom. You have the option of adding our fuel conditioning unit, the FCU-1000, to the FuelTrak diesel fuel flow meter to provide computer-controlled fuel supply temperatures to:
Combat extreme ambient conditions
Fight high fuel return line temperatures
Match specific test requirements
AutomotiveFuel Flow Meter for Steady-State Measurement
In addition, our FuelTrak Transient automotive fuel flow meters provide an innovative technical advancement to steady-state gravimetric petrol or diesel engine fuel measurement, enabling continuous transient and steady-state fuel flow metering as well as density measurement. Our FuelTrak VFS (Vehicle Fueling System) is an automotive fuel flow meter designed to allow the automatic and precise determination of fuel consumption of vehicles under test on a Chassis Dynamometer or transmission test facility.
Fuel Flow Meter: Automotive Performance
Accuracy: 0.5% of reading
Fuel flow range from up to 6000kg/hr
Fuel Flow Meters: Automotive Benefits/Features
Holding tank de-gasses spill-back fuel
Self calibrating
Runs in hardware mode for a smart in-cell holding tank
Compact size; wall or post mount
Monitors fuel during a period of a test cycle for a specific time as short as 100 ms.
Fuel Flow Meter: Petrol and Diesel Engine Applications
Specific fuel consumption measurements
Special fuels research and development
Fuel additives and resultant effects
Emissions certification work
Contact us when you need accurate petrol and diesel fuel flow meter measurement.