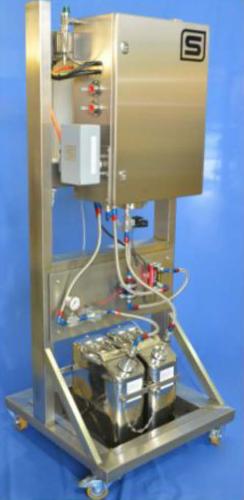 Precision Fuel Additive Control
Fuel Dosing Rig
Fuel dosing to required mixture levels
Dosing levels can be varied test to test
Gravimetric fuel consumption measurement
Portable trolley based unit
All wetted parts are stainless steel
Content Sections:

Overview
Product Benefits
Specifications

---
Overview
Sierra's fuel dosing rig is designed to supply a continuous, precise, controllable dose of additive/additives to fuel for delivery to an engine or vehicle under test. The system is designed to provide a continuous supply of dosed fuel, with high precision fuel consumption measurement.
Read Case Studies
Applications
Catalyst testing
Emissions testing
Injector testing
Additive and consumption testing
The dosing rig measures a batch of fuel to the required dosing ratio. This is then mixed and deposited into an integrated FuelTrak Gravimetric, FuelTrak Transient fuel flow meter or other 3rd party fuel meter which allows the fuel to be delivered to the engine as required. While the mixed fuel is being consumed by the engine another batch of fuel is being automatically pre mixed, such that continuous dosed fuel delivery is achieved.
Product Benefits
Fuel dosing to required mixture levels
Dosing levels can be varied test to test
Large pre dosed fuel stores are not required
Gravimetric fuel consumption measurement
Portable trolley based unit
Multiple control modes
All wetted parts are stainless steel
Fuel delivered at ambient pressure
Specifications
Dosing
Additive/Dosed Fuel Measurement Accuracy
±0.03 g
Control Accuracy of High Dose Fuel/Additive Addition
±1.7 ml
Control Accuracy of Fuel Addition
<2% of fuel mass required to achieve correct mixing ratio between fuel and high dose fuel/additive
Usable Dosing Vessel Capacity
1 Litre
Fuel Consumption
Delivered Fuel Metering Accuracy
±0.05% of reading, ±0.03 grams
Measureable Flow Rate
0 - 200 kg/hr
Maximum Fuel Flow to Engine
300 kg/hr
Fuel Temperature Range
0 - 65°C
System Description
The fuel dosing system is based on two of Sierra's high precision FuelTrak 1000/3000 gravimetric fuel measurement meters. The dosing rig is connected to the customer's standard fuel supply system. Prior to testing a stainless steel storage vessel is filled with either a highly dosed fuel mixture (of known dosed ratio) or the pure additive/additives mixture, dependant on the final additive concentration required.
A valve on the standard fuel supply is opened to allow the FuelTrak measuring vessel to part fill. The additive or highly dosed fuel is then added into the measuring vessel at a controlled rate. Finally the measurement vessel is then topped up with standard fuel to achieve the desired dosing ratio. Once this is achieved the mixture is continually circulated through the first measuring vessel using a stirring pump, which allows the additive to be distributed evenly. Dosed fuel for the engine is teed off the stirring circuit into the second measurement vessel, which is then delivered to the engine.
The dosing rig can operate in various modes and allows continuous mixing, delivery and measurement of dosed fuel to the engine (until the external additive or highly dosed fuel supply is exhausted). The rig can be switched to allow operation of the rig as a standard FuelTrak 1000/3000 fuel meter, if dosing is not required for certain tests.
Control of the Rig is via a CADET V14 control system; this can either be a component within a complete CADET Control, Automation and Datalogging System or the CADET Fuel Controller (separate datasheet available) which would communicate with the customers test cell control system via an Ethernet AK interface. The rig is portable, meaning it can be moved from cell to cell as required (requires stand alone fuel controller, or CADET system with fuel controller component installed in each cell).
Options
Sierra specializes in custom systems, please contact us with any dosing requirements to receive further information on the options and solutions available.
The fuel dosing rig can be combined with Sierra's range of fuel temperature and pressure conditioning modules to allow standardisation or controlled variation of test cycles. Sierra can provide fuel density measurement within the rig as an option.