Improve Testing Efficiency & Productivity
Test Bed Services & Equipment
Our philosophy of flexibility and simplicity of design helps provide the foundation for our range of modular, ancillary in-cell products to meet the diverse range of testing demanded by modern test systems.
Our in-cell support solutions are designed as part of our turn-key engine and vehicle test cell automation and are also available as stand-alone solutions suitable for use with test systems supplied by other manufacturers.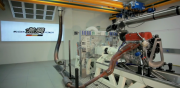 Flexible Engine Handling Solutions
Get rapid engine changeover when time is crucial
Flexible designs for most engine sizes
Trolley docking ideal for production testing
Shaftguard for protection of shaft failure

Flexible Transducer Connection
Ultimate connection flexibility
Pre-connect to an engine outside of test bed
Rapid connection when inside cell
Reduce downtime
Clear labeling assures proper connection
We're sorry, your filter request has no results. Please try again.