Request Technical Data
Engine Test Facility Design Project
Mugen-Honda Motorsports | Milton Keynes, UK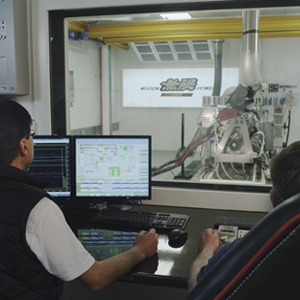 Perhaps no other recent project best demonstrates our design capability more than this high performance engine test facility we developed and built from the ground up to support the highest level of motorsport. We produced a short video about this industrial engine facility project, which highlights:
Our vehicle facility design/build philosophy
Our customer working style
Our proprietary measurement and control equipment
Sierra-CP is responsible for the design, development and construction of a wide array of vehicle test facilities. In our latest project, we designed turnkey research equipment for World Touring Car, Le Mans and Formula 1. The challenge for Honda technical partner Mugen was daunting. To support Honda's return to Formula 1 in 2015, they needed to build test cells capable of precision-tuning engines that exceed 15,000 rpm at 130 decibels in a facility not initially built for vehicle testing.
Today, the new test facility accommodates a wide variety of racing engines. Sierra's Cadet V14 automation software manages the engine test as it simulates the race track of choice. Combustion Air Handling Units (CAHU) feed race track simulated temperature, pressure, humidity air to engine, while fuel flow is metered and all engine fluids are conditioned to precise levels. For more information about Sierra's auto test solutions, contact us today.
Our Equipment Solutions Used in this Facility: