Official Blog of Sierra--Let's Talk Flow!
---
Aug 26, 2015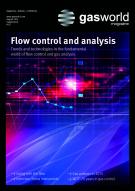 Innovation doesn't happen overnight, but when it does, it's groundbreaking.
In gasworld magazine, Sierra Instruments CEO and President Matt Olin shares  the dedication it took for his father and Sierra Founder Dr. John G. Olin to develop what is today a line thermal mass flow meters with the greatest accuracy.
Thermal technology uses the physics of heat transfer and conversation of energy in an open system to measure mass flow rate. But for precision measurement, you must first solve for the First Law of Thermodynamics for each data point. And it took decades of dedication on the part of Dr. Olin and Sierra's engineering team to develop two revolutionary flow meter technologies.
"As you can imagine, solving the First Law in a flow instrument was no easy task," Matt Olin says in the article. "By Dr. Olin's own accounting, decades of 'hard-nosed dedication to excellence' by himself and Sierra's engineering team, years of testing, and his stack of yellow note pads over five feet high, jammed with his handwritten equations and designs, finally yielded the secret in the form of two revolutionary technologies – the QuadraTherm® and Raptor™ II – now both patented worldwide."
Sierra's QuadraTherm features three precision platinum temperature sensors and one patented DrySense mass velocity sensor, which eliminate unwanted heat-transfer components such as sensor stem conduction. Add to it Sierra's Raptor II operating system and the result is a more stable and accurate mass flow measurement result.
To find out more about Sierra's innovative flow measurement solutions, read the full article.
---