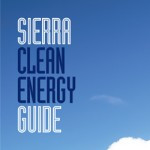 New 40-Page Clean Energy Guide
It's predicted that the clean energy industry will be the third largest global industrial sector by 2020. Sierra is passionately committed to supporting the visionaries that will make this happen.
As a part of that commitment, we have partnered with customers from all over the world to develop a host of solutions to some of today's most pressing environmental problems. From high performance flow measurement instrumentation that helps create biofuel to unique measurement solutions for environmental research on global warming, Sierra is pioneering the way.
Our new 40-page "Sierra Clean Energy Guide" introduces customers to some of our most innovative partners, and the unique solutions we have developed by Thinking Ahead…together. Download the guide from our website at or contact Maryadine at m_washington@sierrainstruments.com and she will send you printed copies.