For engineers and facility managers looking at their production operations to improve process efficiency, reduce costs, and find ways to meet sustainability and environmental governance regulations, selecting the right thermal mass flow meter with accurate flow measurement is critical. 
Utilizing a flow meter that lacks the capabilities to accurately measure your gas flow in your application results in a multitude of issues and ultimately cost more money down the road. These pitfalls include:
Poor accuracy and ongoing sensor drift results in inferior data
Utilizing more than one device to measure temperature, pressure, and flow results in increased installation costs, potential down time, and maintenance costs
Flow conditions and gas compositions can change over time. These changes will impact the meters ability to report accurate information. Is your meter equipped to handle these modifications without having to be sent back to the factory?
5 Ways QuadraTherm 640i with qMix Makes You and Your Process Smarter
How can instrumentation make you smarter? We get that accurately measuring flow is tough. You can't see flow, but you know it's there.

Most flow meters on the market are so restrictive in terms of their application parameters. It's got to be the right pipe size, calibrated for specific gases for a specified  full-scale range.
QuadraTherm   technology allows you to change anything you want in the field-making your job easier and your process smarter.
Sounds too good to be true? Let us break it down for you.
#1 World's Most Accurate Thermal Flow Meter
Achieve extreme precision with "percent of reading" accuracy rivaling accuracies of Coriolis technology over a wide flow range up to 60,000 sfpm (305 smps).
+/- 0.5% of reading (inline)
+/- 0.75 of reading (insertion)
Industry's only ultra-low flow calibration from 0 to 499 sfpm or any value between for any pure gas or gas mixture
40-point calibration available for highest accuracy
Bottom line: Your gas flow measurement will have precision accuracy, so you know what's running through your pipe, even if that gas composition changes.
#2 Patented 4-Sensor Technology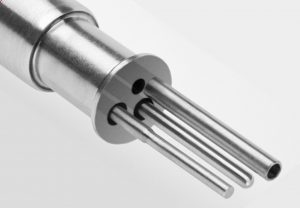 Different molecules of gas transfer heat at a different rate, so sensor technology and stability is critical for accuracy.
Four-sensor technology provides the critical inputs for the Raptor OS' living, learning algorithm used in the qTherm brain
Three platinum temperature sensors and one patented DrySenseTM mass velocity sensor
Eliminate drift with DrySenseTM sensor technology
Lifetime limited sensor warranty
QuadraTherm's patented 4-sensor technology is the physical aspect of how we make the direct mass flow measurement to provide precision accuracy.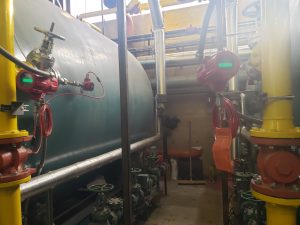 #3 qTherm "Brain" Optimizes Field Intelligence
qTherm "brain" manages changes in gas, internal and external temperature, and pressure via a comprehensive heat transfer model using only true variables which instantly calculate precise, stable and accurate mass flow measurement.
Solves the first law of thermodynamics
Enables Dial-A-Pipe
Insertion – adapt to any pipe size 2 inches or greater and pipe roughness
Inline – built-in flow conditioning eliminates straight run requirements
#4 qMix Manages gas Composition Changes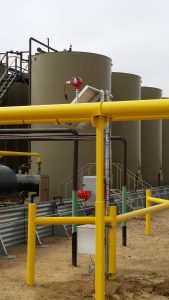 Use qMix software to easily create pure gases or any gas mixture in the field and retain accuracy – no additional factory calibration necessary
Meet EPA emissions regulations like "Quad O"
Dial-A-Gas

3 gas slots for any gas or gas mixture you want; air comes standard
Accommodates multiple full scales for same gas or gas mixture
Capable of increasing full scale by 2x

Use "My Gases" Library to store unlimited new qMix gas compositions
qMix RealTime Flare Management System (FMS) Delivers Real-Time Flare Gas Measurement:

qMix RealTime app connects, reads and updates new flare gas composition from a GC-real time, no recalibration needed
Meet EPA rule 40 CFR 63-measure flare gas down to 0.1 sfps (0.03 smps) where ultrasonic flow meters can't operate
Easy to install with current ultrasonic flow meters, no process shutdown
#5 World-Class Flow Calibration Ensures Accuracy

How your meter is calibrated matters.
Advanced gas loop delivers highest accuracy
Specifically designed for industrial thermal calibration – Over $2 million invested
Closed gas loop with pressurization, temperature control and NIST traceable calibration standards
Calibrated full scales up to 30,000 sfpm, any gas or gas mixture
Calibrated full scales up to 60,000 sfpm with slight de-rate of accuracy for any gas or gas mixture
Additional beneficial features
No moving parts
Hot-tap for easy install-no process shutdown
InSitu calibration with the ValidCal app validates original calibration in the field
Digital communications available
Approvals available cFMus – Explosion proof for Class 1, Div 1, Groups B,C,D

CE – European Conformity
ATEX/IECEx
Canadian Registration (CRN number)
GOST R
Chinese Pattern
Discover more about QuadraTherm technology and how it can help you in your process by downloading the QuadraTherm Tech Guide.
Want to learn even more? Watch these great videos featuring QuadraTherm technology:
Take Control of Your Facility's Flow Measurement
How to Achieve Maximum Boiler Efficiency
Breakthrough in Flare Gas Measurement

qMix RealTime Flare Measurement System – How it Works