Official Blog of Sierra--Let's Talk Flow!
---
Apr 25, 2012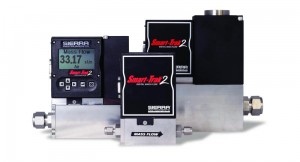 At the recent Pittcon 2012 Tradeshow, we had many engineers and researchers stop by our booth wanting to measure and control ammonia. We've got a perfect product for the application, but there are a couple of precautions that you have to take. Some of the customers who have stopped by have run into the problem of ammonia turning from gas into liquid and ruining the flow meter they are currently using.
Our SmartTrak 100 flowmeter is ideal for ammonia mass flow control. The key to ammonia is that it has to be dry and it must be very warm to remain in gaseous form. The maximum temp spec on SmartTrak is 122F. We recommend heating the inlet and outlet lines leading to and from the instrument to at least 115F as well as heating Smart-Trak's 316 stainless steel flow body to 115F. If you take all these simple precautions, you will be able to measure ammonia for years and years to come with no problems.
---