Software / Firmware Upgrades & Improvements
Sierra's team of software and firmware engineers are continually developing and adding value-added tools and features to our product in the form of upgrades. It all starts with a customer requirement that we discover may be useful across all of our flow customers. Although our upgrade library is small now, it will grow in the future.

Four Multi-Gas Flow Totalizers for the QuadraTherm® Thermal Mass Flow Meter
View and totalize four gases with one instrument
Totalize multiple gases indepentent of eachother
Accurately monetize and allocate gas usege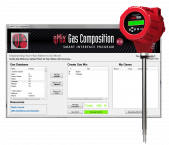 Field-Update For Gas Composition Changes
Powerful, gas mixing software to create custom gas mixtures in the field
Free BETA trial with every QuadraTherm® thermal mass flow meter
Maintain flow meter accuracy if gas composition changes
No need to send unit back to the factory if gas composition changes
Avoid costly recalibration
We're sorry, your filter request has no results. Please try again.