Flowmeter Home
»
Service & Repair
»
Flow Calibration and Flowmeter Repair Service
Accurate Flow Calibration and Repair Service
Dedicated to Ensuring Your Flow Instrumentation Is Reliable
The accuracy of your flow instruments plays an essential role in determining efficiency, performance and cost savings. Sierra harnesses over 40 years experience in gas flow calibration to offer you fast service turnaround, to maximize your process. Our state-of-the-art facility has a full range of NIST traceable, primary standard flow calibration equipment suited for nearly any type of gas mass flow meter or controller. Sierra will also service most other mass flow meter & controller brands. Our Sierra Certified Flow Experts value accuracy, speed, and excellent customer service. Learn More about our Service Capabilities. Contact Us.
Easy Online Asset Management System
With quality systems like ISO 9001, assuring your flow meter is always "in cal" is essential. Our online calibration management system makes it easy to maintain all of your flow instruments. As calibration dates come due for your instruments, the system proactivaley sends an autotmated reminder email, listing the instrument needing calibration online. View all your units in your customized My Units Service & Repair Portal. Submit an Return Materials Authorization (RMA).
All you have to do is ship us the unit. We'll send you automated status updates along the way and ship your unit back quickly. Our service and repair process follows:
Step 1 Create or login to your Sierra Account (submit RMA, track open orders, view history, manage your repairs)
Step 2 Submit Return Materials Authorization (RMA) and receive an email confirmation
Step 3 Send your product to Sierra with RMA paperwork (generated for you online)
Step 4 Receive a quote after 72 hours
Step 5 Get repaired/recalibrated product back 14 days or sooner
Get Started. Submit RMA Today!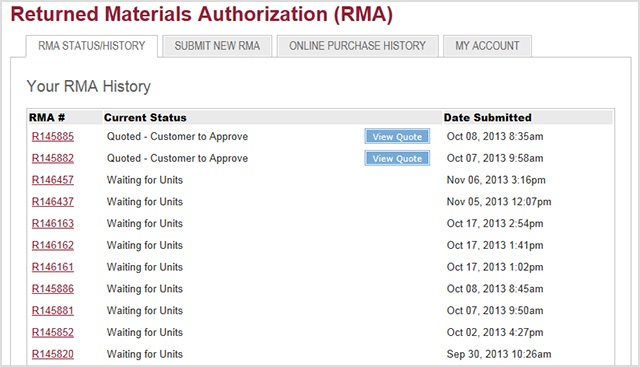 Fast Turnaround on Mass Air Flow Measurement Calibration
"Being in this industry for more than 40 years," explains Sierra President Matthew Olin, "we value the fact that our customers need it yesterday. We put a high value on the urgency that's inherent in the flow calibration and repair industry. Our many global locations help us streamline logistics and route customers to the closest service center in North America, Europe or Asia. We even get service and repair work from competitors because the highest-quality calibration just wasn't getting done. We quickly step in and get it done!" We continually meet the promise of 72 hour evaluation period and are dedicated to getting your product back to you as quickly as possible.

Let our dedicated Tech & Service Team help you anytime. Contact Us.




Factory-Direct Flow Meters Means Low Overhead
"We maintain a lean, very competitive operation that often runs 24-hours a day if necessary," explains Sierra President Matthew Olin. "This efficiency and productivity means competitive prices. And because we are the manufacturer, we give you timely responses to questions and draw from over 40 years of flow calibration and manufacturing expertise. With factory-direct service, our team also has the resources to service your instrument quickly and without the hassle of dealing with a third party, thus maximizing your up-time," explains Olin.
Flow Metrology Laboratories, Primary Standard & NIST Certified
Since 1973, and in support of our global growth strategy, Sierra has steadily built up our flowmeter calibration and repair capability following our philosophy that a flow device for air, gas or liquid measurement is only as good as its calibration. And at the end of the day, we are only as good as our customers' level of satisfaction.
We have Flow Centers of Excellence in USA, Holland and China with an additional five Authorized Service Centers located in Korea, Singapore, India, Brazil, and Mexico. Our global capability includes over fifty flow meter calibration assets ranging from high temperature wind tunnels, closed loop gas calibration systems, primary standard piston provers and bell provers—all traceable to national standards laboratories such as NIST in accordance to Guide 25.