Official Blog of Sierra--Let's Talk Flow!
---
Dec 04, 2015
In November, I had the privilege of being a guest speaker on a panel at the ProSeminar Class offered at California State University Monterey Bay's School of Computing taught by Dr. Eric Tao. He was one of my former professors and my first employer as a professional graphic designer.
We presented in front of about 100 incoming students. We were asked several questions and asked to give advice to the students. Here is my advice for people striving for career success and growth:
Seek Clear Communication

Communication is essential in the workplace and can be the most challenging thing to overcome. You have to learn how to be a clear communicator. That's where the most challenges lie at any job. If you're unsure of something, ask for clarity. Get precise, set due dates. Keep your team members in the loop. Take responsibility for your actions.
Seek to Understand

When working on teams, there has to be common ground when communicating. For example, I work on a daily basis with web developers and engineers. I have to balance website design and usability choices with the needs of the engineering team so that our customers find our site effective and user friendly. To make sure there are no misunderstandings, I "go to the place." It's one of Sierra's core principles. Go directly to that person so you know a little of what it's like in your co-worker's shoes, and you can be more efficient.  Seeking to understand your co-worker's needs translates across all jobs in any company and ensures "high performance team work."
Stay Balanced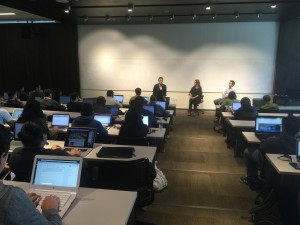 Make sure to stay balanced in work responsibilities versus life responsibilities. Granted, sometimes you have to work longer hours (10- to 12-hour days) to meet deadlines.However, you can't do that all the time because it drains your inspiration, especially those of us who are asked to create constantly on a daily basis. Fuel your creative fire. Do things that inspire you, get away from the computer screen.
I used to play video games and while I still like them, I stopped playing them because I wanted to live my own adventures, seek the new and unknown, in order to fuel that creative fire. One of my former professors said something to me in 2007 that's stuck with me since: "Why am I playing video games when I can be making video games?" Our time is limited and should be used wisely. However, this doesn't mean you can ditch work early all the time to seek these adventures.
Be a Life-Long Learner/ Get a Mentor


Ever since I've been in college, I've had a mentor for my professional career. Mentors provide feedback and input on what you create, which allows you to grow in your skill set and allows your career to flourish. When I first started getting feedback from mentors, it was uncomfortable, but it's those feelings of being unsure that allow us to stretch ourselves, challenge ourselves. Making mistakes is how you grow. It also is humbling to always be the student of someone wiser. It makes one a life-long learner. Also, take classes on professional, skill-building websites.  Spend at least an hour a week just learning and improving.
As I sit here reflecting, I remember back when I was one of those students, watching guest speakers present their career advice to us in the ProSeminar Class. Now, here I am, one of those same guest speakers, giving back to the community and the younger generation. It's been pretty amazing to see my career grow and continue to grow because of these tools. I challenge you to learn something new today!
November's ProSeminar at California State University Monterey Bay included graphic designer Charlotte Chapman, Sierra Instruments; graphic designer Erik Uppman, Cannery Row Company; Professor Eric Tao, California State University Monterey Bay; and graphic designer Jeff Lewis, California State University Monterey Bay.
---