Official Blog of Sierra--Let's Talk Flow!
---
Aug 29, 2013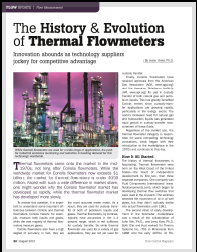 Flow measurement requirements are not going away. If anything, market drivers like renewable energy, hydraulic fracturing of natural gas, and stricter emissions requirements are prompting a growing amount of industrial customers to find the best flow measurement solution for their application.
In The History & Evolution of Thermal Flowmeters, author, Jesse Yoder states, "While the worldwide market for Coriolis flowmeters now exceeds $1 billion, the market for thermal meters is under $150 million."  But he also notes that this healthy competition drives Sierra, and other thermal companies, to push the envelop of thermal technology through innovation of better sensors and data manipulation.
Yoder's Article explores:


Why the Coriolis market has developed more rapidly than others


History of thermal flow meters, with Sierra as a central provider


Market drivers


Thermal flow meter innovation, including Sierra's QuadraTherm 640i/780i flow meters, which are driving new thermal market growth due to unprecedented accuracies.


What potential market growth do you think thermal flow technology has over Coriolis? Please let us know or Contact us today!
---