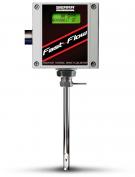 FastFlo™ 620S Air Flow Sensor
High-Performance Air Flow Sensors for Industrial Gas Mass Measurement
The FastFlo™ 620S – an insertion thermal air flow sensor that contains FastFlo® Sensor Technology and Smart Electronics – was designed to give you a highly reliable, responsive and affordable mass flow meter for light industrial applications where a NEMA 4X (IP65) enclosure is acceptable.
Accuracy is +/- 1.0% of full scale, 0.2% of full scale repeatability
NEMA 4X insertion mass air flow sensors measure air, nitrogen or any other inert gas
with a fast, 200-millisecond response time
High-accuracy glass sensor technology
Buy online for fast delivery of in stock products. Available in 1, 2, 3, 4, inch schedule 40 pipe sizes
This airflow sensor – which includes a compact, versatile, microprocessor-based transmitter – integrates flow-range adjustments and meter validation and diagnostics, giving you the ability to "field-validate" your meter's calibration.
Our digital communications solutions offer engineers and systems integrators, full industrial system integration and networking capability with Sierra's light industrial flow meters. Digital communications solutions include: Modbus RTU. This flexibility of communication features offers turnkey solutions for integration of Sierra's vortex flow meters into any industrial automation system or application.


The 620S air flow sensor enclosure is available in probe-mount or remote-mount configurations and has a 316 stainless steel, 3/8-inch diameter insertion probe available in lengths from 3.7 inches up to 24 inches. Mass flow rate and totalized flow, as well as other configuration variables, can be displayed on the meter's optional 2 x 12 backlit LCD readout.

Unique Airflow Sensor Features

±1.0% of full scale accuracy
200 msec time-response time
NEMA 4X (IP65) enclosure
Field validation & diagnostics
Field adjustment
2 x 12 backlit LCD readout
3/8-inch diameter insertion probe
Probe lengths up to 24"
316 stainless steel construction
Digital communications solutions include: Modbus RTU.
Product Related Documents & Downloads


COMPRESSED AIR ENERGY SAVINGS
July, 2008 - Processing: Flowmeter Solutions





Air Compressor Supply Inc.:


Putting a Price Tag on Compressed Air Waste






The Sierra Chronicles show how Sierra has provided mass flow solutions to our customers' flow challenges for the last 4 decades. Our commitment to increasing customer productivity and efficiency has always been and will always be, the common thread.

Sierra supports Modbus RTU digital communication protocol for flexible integration of our mass flow meters and controllers into any automation or control system. Modbus Protocol is a messaging structure developed by Modicon in 1979. It is used to establish master-slave/client-server communication between intelligent devices.

* For a limited time, InnovaSonic 203 ultrasonic liquid flow meters are 40% off when purchased online, in-stock only. Offer ends on 9/18 5 p.m. PST.