Meter Air Flow More Accurately with QuadraTherm® 640i/780i
Avoid Costly Mistakes with Precision Air Flow Meters By Sierra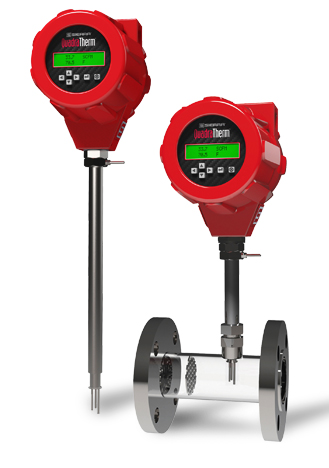 QuadraTherm air flow meter supplier Sierra Instruments introduces the first four-sensor thermal mass air flow meter design—three precision platinum temperature sensors and one patented DrySense mass velocity sensor backed by a lifetime warranty. This precision flow meter for air measurement is available in an insertion version and an inline version.
The QuadraTherm 780i inline version achieves accuracy of +/- 0.5% of reading, making it the most accurate thermal meter in the world (Accuracy statement verified by an independent NIST and NVLAP accredited metrology laboratory). Before now, this level of accuracy was never thought possible by any thermal dispersion mass air flow meter manufacturer. Inventor of the technology, Dr. John G. Olin, explains the challenge for air flow meter suppliers in this video.
Impossible to achieve with traditional two-sensor flow meters for air, the four-sensor QuadraTherm measures all thermal heat transfers occurring and works in harmony with our proprietary qTherm algorithm set to solve the First Law of Thermodynamics (for thermal dispersion technology) in a fraction of a second for each mass flow data point. The instrument measures, then calculates stem conduction and all other unwanted heat loss components, subtracts them out, and then computes gas mass flow rate from the remaining forced convection (gas mass flow) component.
qTherm is also the "Brain" behind the air flow meter's capability to change gas (Dial-A-Gas) and pipe size (Dial-A-Pipe) in the field, while also allowing gas updates to the instrument via the internet, which connects to the most up-to-date gases in our proprietary qTherm Gas Library. Instrument software also features a unique multi-gas flow totalizer.

For easy systems integration, we offer the following digital communications solutions: Foundation Fieldbus and Modbus RTU. View all of our digital communications solutions offering turnkey solutions for industrial systems automation and control.


QuadraTherm® 780i Inline Mass Flow Meter
Best Accuracy: +/- 0.5% of reading above 50% of full scale for flow meter air measurement and other gases; inline version with built-in flow conditioning; multivariable outputs, flow ranges up to 60,000 sfpm (305 smps), qTherm™ Dial-A-Gas®, Dial-A-Pipe, Hazardous Area approvals. Digital communications solutions include: Foundation Fieldbus and Modbus RTU.


* 10% discount good for online, in-stock units only. Offer expires 4/15/14. Custom configured products are at list price. Use coupon code provided at checkout.