Industry's Most Accurate Air / Gas Thermal Insertion Mass Flow Meters
QuadraTherm® 640i
Achieve high accuracy +/- 0.75% of reading
Eliminate drift with patented DrySense™ sensor
Validate in the field for easy in-situ calibration
Use qMix software to easily change gas composition in the field and retain accuracy; Download Flare Gas Mass Measuring Tech Note
Backed by lifetime sensor warranty
Boiler MACT certified for area source boilers (40 CFR 63, subpart JJJJJJ) and for major source boilers (40 CFR 63, subpart DDDDD), Learn more >
Part of Sierra's Big-3 iSeries family of flow meter technologies, Learn more >
Content Sections:

Overview
Product Benefits
Specifications
Documents & Downloads
Applications
Industries

---
Overview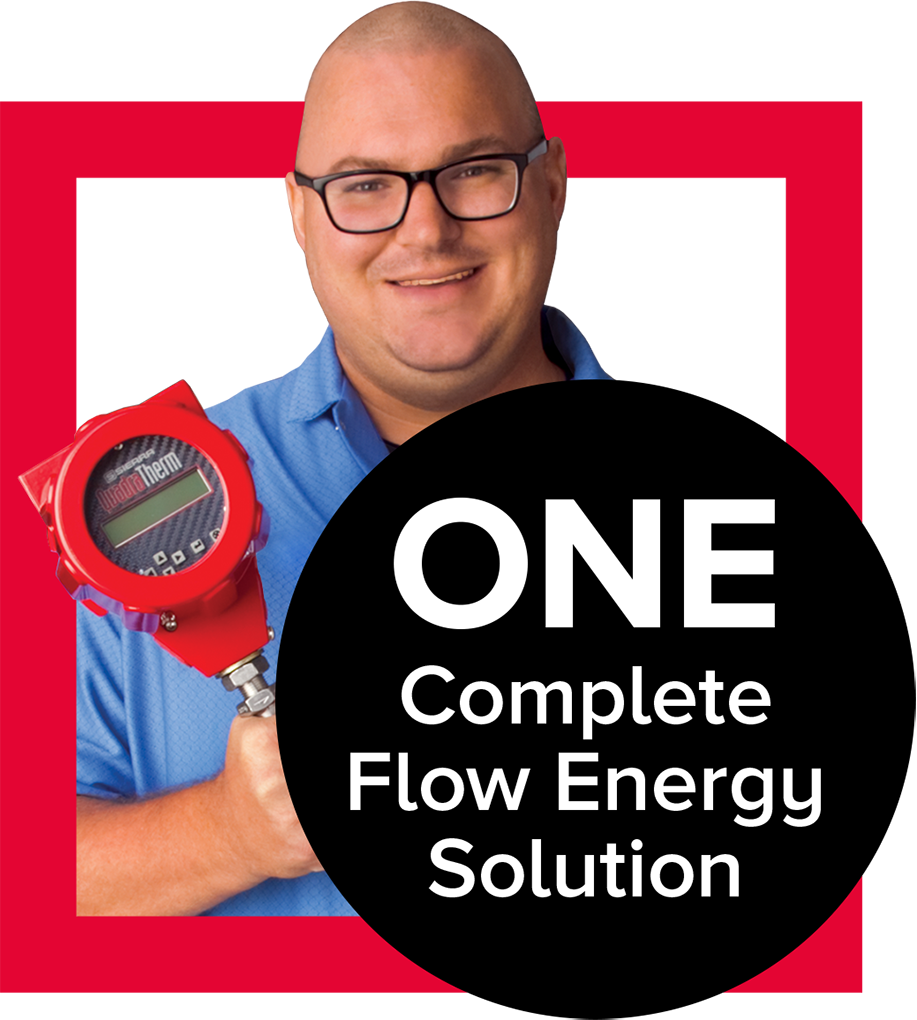 The QuadraTherm® 640i is the most accurate insertion-probe thermal mass flow meter for air / gas mass flow rate measurement on the market today, achieving gas mass flow rate accuracy never before possible, +/- 0.75% of reading above 50% of full scale. The QuadraTherm 640i air / gas mass flow meter marks an accuracy breakthrough in thermal dispersion technology achieving extreme precision with "percent of reading" accuracy, which for the first time rivals accuracies of Coriolis technology for measuring gas mass flow rate.
Each QuadraTherm thermal flow meter comes with on board qMix(tm) gas mixing software which allows you to create custom gas mixtures in the field to compensate for gas compositional changes-no costly recalibration needed. Perfect for managing changes in flare gas composition in the field for upstream oil & gas flare gas measuring applications and other applications in which gas composition fequently changes. Learn more.
Boiler MACT Certified
The QuadraTherm thermal mass flow meter is also ideal for compliance for Boiler MACT regulations for inlet fuel measurements for area source boilers (40 CFR 63, subpart JJJJJJ) and for major source boilers (40 CFR 63, subpart DDDDD). Learn More.
The QuadraTherm:
Introduces a patented four-sensor thermal mass air flow meter design—three precision platinum temperature sensors and one patented DrySense mass velocity sensor
Is backed by a lifetime warranty
Is a precision flow meter for air and gas measurement that is available in an insertion version and an inline version
Features Sierra's proprietary Raptor OS operating system (formerly known as qTherm)
Use qMix software to easily change gas composition in the field and retain accuracy. Learn More.
QuadraTherm's four sensor technology provides the critical inputs for Raptor's living, learning algorithm set and gas database to accurately manage changes in gas and pipe selection, gas temperature, gas pressure and outside temperature.
Operating Principle: Thermal dispersion technology provides direct mass flow measurement featuring no pressure or temperature compensation needed; no moving parts; low pressure drop; and high turndown.
Visit the QuadraTherm Microsite to learn more.
Product Benefits
Patented breakthrough "quad" 4-sensor thermal sensor technology
Patented zero drift DrySense™ velocity sensor
Lifetime warranty on sensor
"Percent of reading" accuracy, which for the first time rivals Coriolis technology
Sierra's state-of-the-art ISO 9000 closed-loop calibration facility matches each application for best accuracy
Greenhouse Gas (GHG) certified to meet EPA (40 CFR Part 98)
Optimized (CH4) as well as N20, SF6, HFCs, PFCs and CO2, per the EPA mandate
Ideal for high-accuracy applications like custody transfer, wastewater treatment, hazardous areas, facilities management and general process control applications
Features our proprietary Raptor OS™ operating system (formerly known as qTherm)
ValidCal™ Diagnostics: field calibration validation and meter diagnostics to assure operating performance
Multivariable outputs - gas mass flow rate, temperature and pressure
Total of four gases onboard; Capability to change gas (Dial-A-Gas®) in the field
Free qMix™ software to create custom gases or mixtures to compensate for compositional changes; upload mixtures to the unit in the field
Capability to change pipe size (Dial-A-Pipe®) in the field

Unique multi-gas flow totalizer and alarmsHigh flows up to 60,000 sfpm (305 smps)
Small-diameter, 3/4-inch (19.1 mm) sensor probe
Pipe/duct sizes up to 72" (2M)
Low and high pressure hot tap
An inline flow conditioned version is also available - Model 780i
Very low pressure drop
No moving parts
Free computer interface software
Connected to the most up-to-date gases in our proprietary Raptor Gas Library, update the instrument via the web
Large LCD display and pushbutton interface, remote enclosure mounting available
Multi-language display interface: English, German, Chinese, Spanish, Dutch
Certified for Boiler MACT measurement meeting EPA regulations for area source boilers (40 CFR 63, subpart JJJJJJ) and for major source boilers (40 CFR 63, subpart DDDDD) Learn More.
Specifications
Accuracy: +/- 0.75% of reading above 50% of full scale*
Repeatability: +/- 0.15% of full scale
Flow range 0 to 60,000 sfpm (0 to 305 smps)
Turndown 100:1
Measure all inert gases and all non-condensing clean gases
Flammable gases: methane, propane, hydrogen, digester gas, natural gas
Corrosive gases compatible with 316L stainless steel
Gas/ambient temperature: -40°F to 392°F (-40°C to 200°C)
1-inch (25.4 mm) diameter protective sensor shield option for improved sensor protection. Learn more.

*Verified by an independent NIST & NVLAP accredited lab

Response time is three seconds to achieve 63% (one time constant) of final value
Power supply: 100 to 240 VAC (0.4 Amps RMS at 230 VAC); 24 VDC +/- 10%, 1 Amp
316 stainless steel construction
Output signals: RS-232, 4 to 20 mA flow, 4 to 20 mA temperature, 4 to 20 mA pressure (optional)
Alarm output (contact SPST/opto relays)
User definable pulse output for totalized flow
Digital communications: Foundation Fieldbus, HART, Modbus RTU, and Profibus DP
Hazardous-Area Location Enclosure (IP66)
Approvals:

cFMus–Explosion proof for Class I, Div I, Groups B,C,D
ATEX
IECEx
GOST R
Chinese Pattern
CE–European Conformity
Air Mass Flow Meter Featuring Dry Sensor
The challenge for Dr. Olin and the Sierra engineering team was to develop a sensor that isolated forced convection, the desired source of heat loss. In traditional thermal air mass flow meters, the heated velocity sensor is inserted into the tip of a tubular probe and is surrounded by potting compounds, such as epoxy, ceramic cement, thermal grease or alumina powder.
These so-called "wet" sensors have several weaknesses. They have an increased skin resistance which creates a "droop" in the output curve and decreased sensitivity as a consequence. They are hard to produce repeatedly, which ultimately means reduced accuracy. And finally, wet sensors can create long-term measurement errors caused by aging and cracking due to differential thermal expansion between the parts of the heated velocity sensor.
QuadraTherm builds on the long-term stability of our patented no-drift DrySense velocity sensor technology. As the name implies, Sierra's velocity sensor is the only thermal sensor in the world that is truly "dry." Our proprietary swaging process eliminates all air gaps between the heated velocity sensor and the tubular probe without the need for any potting compounds. The result is maximum sensitivity, reproducibility, immunity to cracking and shifting over time, and ultimately greatly improved accuracy. We back our DrySense technology with a lifetime warranty. In addition, by radically reworking the physical sensor head design, Sierra's engineering team minimized the effects of downdrafts and other interferences that cause false flow readings in traditional thermal flow meters. Dr. Olin says, "We are trying to create a flow field for the velocity sensor where it is unaffected by anything else around it, so it can do what it was meant to do—measure the free-stream mass flow rate." Wind-tunnel testing and CFD modeling verified that we accomplished our goal.
QuadraTherm's Four-Sensor Design
Sierra's biggest breakthrough occurred when two new temperature sensors (T2 and T4—See Figure) were added to the existing two-sensor design (T3 temperature & T1 DrySense velocity) used in previous models. The two additional sensors perform real-time correction for the heat lost to the outside environment due to a phenomenon called "stem conduction."
To better understand the benefits, let's look at a typical example. Let's say the temperature of the flowing gas is higher than the outside temperature. In this case, stem conduction causes a substantial fraction (between 10% to 25%) of the electrical power supplied to the heated velocity sensor to be lost through the probe shaft to the outside environment. What happens if this is a traditional thermal mass flow meter and the outside temperature in the field application drops by a few degrees? The heat lost via stem conduction will increase and a flow measurement error will occur. QuadraTherm eliminates this source of error by first accurately measuring air flow and then correcting for the heat lost via stem conduction.
With Raptor Input, It Learns
The QuadraTherm air flow meter's four-sensor technology provides the critical inputs for Raptor's living, learning algorithm set and gas library to accurately manage changes in gas and pipe selection, gas temperature, gas pressure and outside temperature. Raptor solves the First Law of Thermodynamics in a fraction of a second for each mass flow data point. It calculates stem conduction and all other unwanted heat loss components, subtracts them out, and then computes the mass flow rate from the remaining forced convection component. With Dial-A-Pipe, it lets you relocate the probe to different pipe sizes and types in the field. With Dial-A-Gas, it provides gas change capability with highly accurate readings.
Expanding Gas Database
Sierra's Raptor Gas Database stores proprietary gas packets. A gas packet is analogous to the DNA of a specific gas. It stores all the parameters needed to instantly calculate the thermodynamic and transport properties of every gas or gas mixture versus temperature and pressure. Currently, the library has mapped 18 gases and mixtures. And it continues to grow and improve by the day. Furthermore, the millions of data points collected over time in Sierra's metrology laboratories can be used to tune the instrument for better performance and accuracy. Expect hundreds of data sets and gas and gas mixture combinations in the future that can be downloaded to your QuadraTherm air flow meter via the web.