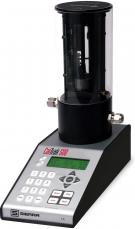 CalTrak® 500 Modular Gas Flow Calibrator
High-Accuracy Primary Standard for Cal Labs & Industry
Sierra's CalTrak® 500 is a high-accuracy, modular primary standard gas flow calibrator for all inert gases. Fast and portable, the 500 offers standardized accuracy of ±0.35% for customers who have many flow instruments to be validated or calibrated frequently. Primarily used for standard calibration and verification of mass flow meters, controllers, variable area flow meters, and precision in-situ calibration of industrial flow meters and controllers.

The 500 is a true primary standard in every sense of the word. The dimensionally-based primary accuracy of the CalTrak surpasses pressure-based secondary methods and is backed by a rigorous uncertainty analysis. For the most stringent accuracy, the 800 is manufactured to ISO 17025 standards at a NVLAP accredited lab using assets that are directly traceable to NIST.

For flexible use, the modular 500 has three interchangeable flow cells with a broad turndown ratio to cover the entire range, minimizing initial investments and maintenance costs. This modular design allows users to begin with one flow cell and then add the other cells as resources allow. CalSoft® software captures the flow data from your 500 for easy export into common software packages, a PC or Microsoft environment.
Key Features

Accuracy up to +/- 0.35% of reading mass flow
Flow Range: 0.5 sccm up to 100 slpm
Mass and volumetric flow rate
Flexible modular design
Field portable-battery operated

Unique Product Features of The CalTrak 500 Gas Mass Flow Calibrator

Features

No Mercury or other hazardous materials
Accurate: Gas Mass flow up to 0.35% reading
Range: 0.5 sccm to 100 slpm
Affordable: Less expensive than most popular secondary standards
Convenient: Field portable and battery powered
Fast: 1 to 15 sec per flow reading
Suitable for most non-corrosive gases
Manufactured to ISO 17025 Standards
Directly traceable to NIST
Generates Calibration Certificate easily
CE Approved
Product Related Documents & Downloads

Watch Product Line Video

* Limited time online offer only for in-stock 620S FastFlo and 620S BoilerTrak flow meters only. For online purchases only. No coupon required. Offer expires March 31, 2015 at 5pm PST.