Increase Biogas Production
Biogas Meausurement with Changing Gas Composition

Increasing biogas production from landfills and digesters is a stringent requirement for end users producing renewable energy. Through precise biogas measurement even with changing gas composition, end users can increase biogas prodction and revenue. Learn more.
Challenges of biogas flow measurement and production
Why changing biogas composition affects accurate biogas flow measurement
How precise flow measurement technology can increase biogas production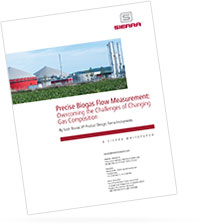 Download Free White Paper
* 10% discount good for online, in-stock units only. Offer expires 4/15/14. Custom configured products are at list price. Use coupon code provided at checkout.