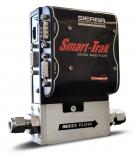 Compod™ Flow Sensor and Flow Control Valve for SmartTrak 100 Series
Compod Programmable Flow Sensor Control Module, Multi-Drop R
Simplify basic flow sensor control installations with Compod!
With its advanced mass flow sensor capabilities, the Compod™ control valve, coupled with Sierra's SmartTrak® 100 mass flow meters (MFM's) or controllers (MFC's) greatly simplifies air flow control systems and permits networking of multiple instruments using open-source MODBUS RTU protocol. Compod™ also monitors the functionality of the mass flow meter or controller and includes diagnostics, notifying users of valve faults or system upsets. By adding the Compod™ flow sensor control valve to a new or existing SmartTrak® MFM or MFC, end users can take complete control. Two digital outputs and one analog input can be configured by the user for a wide variety of air flow process controls including:
Pressure monitoring and control
Gas ratio control
Internal valve performance monitoring
Triggering alarms
Starting or stopping gas flows automatically under user-defined conditions
Gas flow totalization with adjustable pulse output
And many more...

Plug our innovative new Compod into the face of any Smart-Trak 2 and streamline, simplify and save.

With a Compod, SmartTrak 100 becomes a fully network-enabled multi-drop RS-485 / Modbus RTU air flow sensor, allowing you to perform the same functions as much more complex systems at a fraction of the cost.

Daisy-chain multiple MFC's on a single network, then send and receive data, alarms and commands or perform remote diagnostics and data logging

Reduce costs by automating complex gas processes with a Compod-enalbed Smart-Trak 2




Compod Software Interface Screen Shots

:





More Flow Sensor Features:


• Controls simple processes without the need for external PLCs or computers
• Acts as a vital link in a complex process control network
• Monitors the operation of instruments and provides potential problem alerts
• Is available with a local LCD Display for local monitoring
• Can be used with new instruments or added to existing models

With all of the above features, the Compod™ flow valve can perform the same functions as much more complex control systems at a fraction of the cost, so using Compod™ is smart in more ways than one.

An internal Compod can also be added inside the industrial enclosure of the Max-Trak® Model 180 to obtain most functions.

Users can utilize Sierra's included flow sensor software or write proprietary software using open-source MODBUS protocol to configure standard functions for the Smart-Trak®. Compod's two digital output channels and the analog input channel and a configurable pulse output channel can automate gas processes without the need for an external PLC or computer.

Product Related Documents & Downloads
| | |
| --- | --- |
| | Inside Sierra and it's Compod with SmartTrak Watch this short video to get quick birds-eye view into Sierra and a "how-it-works" lesson on our Compod which simplifies basic flow control installations to save you money and time. Watch video now. |

Compod_daisy_chain_tn