Clean Energy Guide Flow Solutions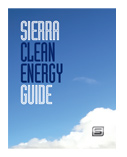 Sierra's Clean Energy Guide is a 40-page PDF downloadable guide that details how Sierra has partnered with customers from all over the world to develop sustainable solutions to some of today's most pressing environmental problems. From high performance flow measurement tools that help create biofuel from solid wastes to unlocking the carbon history in Antarctic ice to determine how much CO2 the ocean can digest, the Sierra Clean Energy Guide details a broad range of problem/solution scenarios.

Thank you for your interest. Download our free 40-page Clean Energy Guide now!
* Limited time online offer only for in-stock 620S FastFlo and 620S BoilerTrak flow meters only. For online purchases only. No coupon required. Offer expires March 31, 2015 at 5pm PST.