Official Blog of Sierra--Let's Talk Flow!
Under Pressure, Part 2: Don't Run a Flowmeter Regulator into the Mud!
---
Sep 20, 2012
Proper line regulation, be it supply pressure regulation, or back pressure regulation, is fundamentally key to a properly tuned flow system process. All instruments operate most accurately under steady-state conditions, so awareness of regulator behavior and proper tuning will save you time and money on avoiding waste during transient conditions.
In my continuing tutorial on mass flow controllers and pressure regulators (for my intro, see Pressure Regulation Can Be a Sticky Wicket with Flow Meters), I want to point out a seemingly obvious but often overlooked phenomenon with gas mass flow control: seat-drop lock. I know you'll get this concept right away.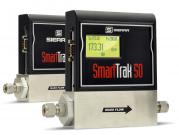 Outlet pressure and flow rate are directly proportional, so it's important to remember that regulators need some flow to properly maintain a setpoint. This can be particularly obvious with a back pressure regulator vs. a line regulator. In short, if you cut the flow significantly, the droop slope spikes. Then, the relationship between outlet pressure and a given flow rate is nonlinear and entirely more drastic at fractions of full-scale flow rate. So, don't run a regulator down into the mud and expect it to work right!
If you're having problems with controlling gas mass and need some advice on flowmeter settings, contact us. We're always happy to help improve your flow!
---