Inline Flow Meters
Inline flow meters measure the movement of liquids, gases, and steam in industrial and other settings.
Insertion and Inline flow meters are the ideal tools for obtaining this data. Installed between pipe sections, or clamped on externally, an inline flow meter can track instantaneous and cumulative flows and even perform energy measurement. Inline flow meters measure either mass or volume: each has advantages and limitations, so the meter must be chosen to suit the fluid and meet the measurement objectives. Important things to know about inline flow meters include:
Measures whole flow in the pipe: While an insertion flow meter only samples a small area, an inline flow meter measures over the entire cross-section to produce more accurate data.

Obtain either volume or mass flow data: Mass flow is more meaningful for compressible fluids while volumetric methods work well with liquids.

Conditions flow: Smooths flow so accurate measurements are achieved with shorter straight pipe runs upstream and downstream.
More About Inline Flow Meters
Inline flow meters provide consumption data for process monitoring and control, submetering, and efficiency improvement. Meters are available with large turndown ratios, for measuring flows of liquids, gases, and steam, low flow conditions, and bi-directional flows.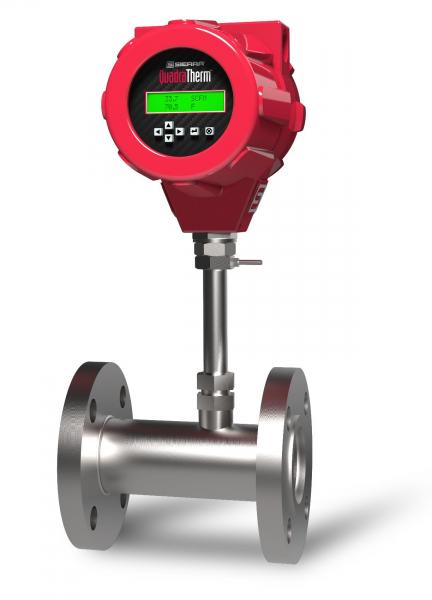 Volumetric flow meters like Sierra Instruments models 203, and 210 are ideal for liquids

Thermal mass flow meters are ideal for natural gas, compressed air, and industrial process gases

Ideal for submetering steam, mass vortex meters work well with low-viscosity fluids

FlowTrak® technology provides a way to optimize flow profile over short runs of straight pipe
Additional Features
Sierra Instruments has been in the flow measurement industry for over fifty years. We understand that flow measurement is integral to maintaining output or service, but also to safety. Wherever in the world you need to measure gas, liquid, and steam flows. Sierra Instruments provides dependable, high-accuracy inline flow meters that are up to the challenge.
Localized and Global Support: Operating out of over 150 locations in 50 countries, Sierra Instruments can support installation, calibration, and service anywhere in the world.

Commissioning: Installation and set up of inline flow meters is generally straightforward, but should help be needed, product specialists are available.

Lifetime Support: If calibration is needed or problems are experienced with a Sierra Instruments flow meter, help is available regardless of the age of the product.
Inline Flow Meters FAQs
Q: What are the advantages of ultrasonic flow meters?
A: Sending a signal through the fluid from outside the pipe avoids any flow disturbance. Ultrasonic flow meters have a large turndown ratio, can handle low and bi-directional flows, and are independent of gas type. Clamp-on models are suitable for both permanent and temporary installation.

Q: Do vortex flow meters measure mass or volume?
A: A meter like the InnovaMass® 240S can measure both. It does this using the principle of "vortex shedding." Picture wind blowing over a flag: the material ripples at a rate proportional to flow. The 240S vortex meter measures the oscillation produced by this ripple and can output mass and volumetric flow rate, as well as temperature, pressure, and fluid density.
Q: Is an inline flow meter harder to install than an insertion flow meter?
A: With the exception of clamp-on meters, inline flow meters are inserted into a section of pipework. Unless a bypass is installed, this means emptying the pipe and adjusting pipe lengths. An advantage of the inline meter is that it's possible to incorporate better flow conditioning, which reduces the length of straight pipe needed upstream. In contrast, a clamp-on meter is quickly and easily mounted to the outside of a pipe that's in service but still needs a straight run for a uniform flow profile.
Inline Flow Meter Resources
We're sorry, your filter request has no results. Please try again.