The Ultimate OEM / MFC
Lifetime No-Drift Sensor Warranty
RedySmart®
Ultimate OEM MFC-modular, compact footprint, connect power cable & communication system
MEMS sensor stability- Lifetime no-drift sensor warranty
Direct mass flow with thermal technology- no temp or pressure compensation
Precision electromagnetic valve control
Competitive OEM pricing- Cost-effective solutions
Content Sections:

Overview
Product Benefits
Specifications
Documents & Downloads
Applications
Industries

---
Overview
OEM MFC with MEMS Technology
Modular. Stable. Cost-Effective.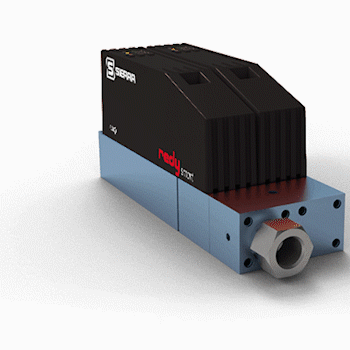 Engineers in the Biopharmaceuticals industry require precise control of the gases used in bioreactors to optimize microbial growth and ensure proper mixing and distribution of the biomass. In addition, precision burner control is needed in order to produce the glass ampules, vials and bottles that are used to properly package the resulting biopharmaceuticals.
Combining superior physics, high reliability and unparalleled flexibility, RedySmart stands apart from competitive offerings. The RedySmart thermal mass flow meters & mass controllers are MEMS-based (Micro-Electro Mechanical System) technology to complement our SmartTrak® capillary-based mass flow meters & gas controllers. RedySmart thermal mass flow devices contain no moving parts and are unaffected by upstream temperature and pressure fluctuations, resulting in exceptional accuracy and repeatability.
The RedySmart offers customers a true OEM mass flow control solution with its modular design, cabling system, easy integration into a gas mixing block, and flexible digital communications options (Modbus included with no additional charge).
Lifetime No-Drift Sensor Warranty
Our lifetime no-drift sensor warranty is in place because RedySmart employs high-precision MEMS (Micro-Electro Mechanical Systems) technology utilizing an advanced, ultra-stable no-drift CMOS (Complementary Metal Oxide Semiconductor) sensor. The MEMS no-drift sensor warranty is a huge competitive advantage in OEM applications where long term stability is key. Sierra defines no-drift as less than 1% of full scale over the life of the instrument. Therefore, if drift of greater than 1% of full scale occurs over the sensor's lifetime, the sensor and/or entire instrument will be repaired or replaced and recalibrated free of charge. See Warranty Statement.
The use of MEMS techniques allow both electronic circuits and mechanical devices to be manufactured on a silicon chip, similar to the process used for integrated circuits.
Making the Ultimate OEM Mass Flow Controller
Modularity: Customize to Needs. An easy connect communication and power cable system has been designed for ultimate flexibility. Numerous mass flow controllers can be mounted on a single flow block to minimize space in multiple gas mixing applications. Connect hundreds of units via daisychain as needed.
Gas Mass Flow Sensor: Accurate and Reliable MEMS Technology. Our Lifetime no-drift sensor warranty is backed by high-precision MEMS technology utilizing an advanced CMOS sensor for stable gas mass flow rate measurement.
Communications: Human & System Interface. An available local display readout communicates key flow data and each device can be configured in the field with a free software app. Connect to the network through Modbus RTU and analog outputs, industrial Ethernet, and Profibus.
Control: Precision Valve. A precision electromagnetic control valve allows the valve seat to assume the exact height above the valve orifice necessary to maintain flow to the set point.
Advanced Calibration: NIST traceable. Each unit is calibrated over its entire flow range to assure accuracy and repeatability over the life of the device. A fully automated system capable of calibrating hundreds of units at once eliminates any human error during the calibration process.
Cal system at right.
Product Benefits
Lifetime no-drift sensor warranty - if drift occurs, instrument will be repaired or replaced free of charge
MEMS (Micro-Electro Mechanical Systems) with ultra-stable no-drift CMOS (Complementary Metal Oxide Semiconductor) sensor
Ideal for OEM Applications-optimized for BioPharm/Burner Control
Modular-customize to needs. An easy-connect communication and power cable system has been designed for ultimate flexibility
Precision Valve - a precision electromagnetic control valve allows the valve seat to assume the exact height above the valve orifice necessary to maintain flow to the set point
Built-in display-mass flow, totalizer, units, set point
Human & Systems Interface-local display readout, configure in field
Fast Set Point Control- response times as fast as +/-80ms
Advanced Calibration, NIST-Traceable. Each unit is calibrated over its entire flow range using real gas to assure accuracy and repeatability over the life of a device
Communications- human & System Interface. An available local display readout communicates key flow data while each device can be configured in the field with a free software app
Specifications
Air, N2, O2 are standard. Other non-toxic, non-corrosive gases available upon request.
Accuracy of +/- 1.0% of full scale
High Accuracy up to ± 0.3% of full scale ±0.5% of reading
Repeatability of +/- 0.2% of full scale
Flow ranges from 0 to 500 slpm (nlpm)
Pressure 3 - 160 psia (0.2 - 11 bara)
Gas/ambient temperature 32 - 122°F (0 – 50°C)

Response time:Meter (GSM): ± 80ms(3); Controller (GSC): ± 500ms(3)
24 Vdc (18 – 30 Vdc), 15 Vdc on request
All devices have a digital Modbus RTU and analog interface standard.
CE approved