Compact Mass Flow Meters & Regulators- Perfect VA Replacement
RedyCompact®
Direct Mass Flow, not volumetric, for highest accuracy & repeatability
High-precision MEMS technology: No-drift (lifetime warranty) CMOS sensor
Compact Footprint for easy drop in replacement to VA meters
Regulate flow with high resolution manual setpoint
Battery operated, with large, easy-to-use touchscreen display, automatic screen adjustment (0°/90°/180°/270°)
Content Sections:

Overview
Product Benefits
Specifications
Documents & Downloads
Applications
Industries

---
Overview
Drop-In Replacement - Get the Mass Flow Advantage
_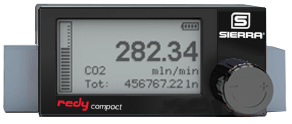 _
Rotameters, also known as Variable Area (VA) meters are used across nearly every industry where economical gas flow metering and flow regulation is required. Rotameters are what is known as a volumetric flow meter only capturing the gas flow volume, not gas mass flow rate. All volumetric flow meters and regulators are sensitive to gas pressure and temperature changes—a pressure change of just 1 Bar generates flow rate error of up to 50%.
We designed our RedyCompact to be the ultimate alternative. A true thermal mass flow meter, RedyCompact is for those that want the highest accuracy and repeatability and need a drop-in replacement for a Rotameter.
Battery powered, with a large touch-screen and automatic screen adjustment (0°/90°/180°/270°), RedyCompact is easy to read from a distance. Regulate flow rate with the high-resolution value by dialing in your manual setpoint. Two standard AA batteries gives the meter months of operation. An optional Micro-USB power plug is also available.
Lifetime No-Drift Sensor Warranty
RedyCompact comes with our lifetime no-drift sensor warranty made possible from high-precision MEMS (Micro-ElectroMechanical Systems) technology utilizing advanced, ultra-stable no-drift CMOS (Complementary Metal Oxide Semiconductor) sensor. The use of MEMS techniques allows both electronic circuits and mechanical devices to be manufactured on a silicon chip, similar to process used for integrated circuits. See Warranty Statement.
RedyCompact Highlights
Compact Footprint
As the name suggests, RedyCompact has a small footprint that accommodates drop-in replacement for any Rotameter in the market.
Touch-Screen Display
The touch screen display offers intuitive navigation. The many variables that make the unit flexible are easily accessible. Automatic display alignment thanks to position sensor.
No-Drift Warranty
Lifetime no-drift sensor warranty. If drift occurs, instrument will be replaced free of charge
Flow Units
Choose between a large number of standardized and normalized flow units from Imperial, US customary and SI all with user adjustable reference conditions.
Device Information & Notifications
Display of complete device information including all configuration settings. Alerts and notifications show up on the home screen.
Alarm Functions
The following triggers are available: Low alarm, high alarm, window alarm and totalizer alarm.
The alarms can be configured with different parameters: Normally open, normally closed, hysteresis, auto/manual/remote reset, delay and alarm duration.
Panel Mount
Two mounting kits are available for convenient mounting into an instrument panel.
Warranty
1-year warranty
Applications
Burner control (furnace construction)
Welding (welding gas monitoring)
Leak measurements (quality, environment)
Coating (equipment construction)
Regulation of gaseous atmospheres (biotechnology)
Measurement of gas consumption (hospitals)
Test equipment (production maintenance)
Flow rate monitoring (laboratories)
Cutting (steel sheets)
Billing
Analytical equipment
Aeration / sparging (food products, ice cream / edible oils)
Blanketing (food)
Fermentation (food, biotechnology, pharma)
Product Benefits
Lifetime no-drift sensor warranty - if drift occurs, instrument will be replaced free of charge
High-precision MEMS (Micro-Electro Mechanical Systems) technology utilizing an advanced ultra-stable CMOS (Complementary Metal Oxide Semiconductor) sensor
Battery-operated, compact design - to accommodate drop-in replacement for any rotameter in the market
Mass flow not volumetric for improved accuracy
Flow Control – precision needle valve. Dial in precise mass flow control with the needle valve
Large Touch-screen display offers intuitive navigation and automatic screen adjustment (0°/90°/180°/270°) for easy installation and visibility
Flow Alarms- get notified. Set alarms so the meter tells you when a flow event happens
Advanced NIST-traceable calibration-each unit is calibrated over flow range to assure accuracy and repeatability over the life of the device
1-year warranty
Specifications
Air, O2*, N2*, He, Ar, CO2, H2, CH4, C3H8 (other gases and gas mixtures on request)
Accuracy of ± 2.0% of full scale; ranges > 200 SLPM ± 3.0% of full scale
High Accuracy ± 1.0% of full scale up to 50 SLPM
Repeatability ± 0.5% of full scale
Flow ranges from 0 to 500 slpm (nlpm)
Pressure 3 - 160 psia (0.2 - 11 bara)
Gas/ambient temperature 32 - 122°F (0 – 50°C)

Max. 300 msec (depending on filter settings)
External power +8...30 Vdc (power consumption max. 300mA) or Micro-USB power supply (DIN 62684) Operation
FKM, optional EPDM (FDA) Pressure
stainless steel or aluminum construction
CE approved