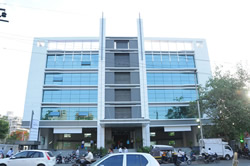 Monterey, CA – July 18, 2014 – The Automotive Test Division of Sierra, known as Sierra-CP Engineering, is a complete turn-key automotive test systems company and has manufacturing and support facilities spread across the globe—United Kingdom, United States, Malaysia, China, and India. Having operations in India for over a decade, Sierra-CP has announced the opening of a new expanded location in Pune, India. Sierra CP's new location is in direct response to growth in the India market.
"We are very excited about our new location in India. With our increased focus on this growing area in global engine and vehicle testing, expanding capability in India was essential. Our new location allows us to provide both convenient and exceptional support that our customers expect," says Martin Hird, Managing Director of Sierra-CP UK.

Sierra-CP India Test Systems PTY is located in Katraji, Pune India and is managed by Nikhil Rai who has over 21 years of experience in the fields of test and measurement, custom-built machines, engineering services and automation.
Sierra-CP designs and manufactures a complete range of automotive test solutions in applications including engine, vehicle, powertrain, transmission, emissions, analytical and component testing. Some of our featured technologies include our CADET V14 test cell automation technology, Combustion Air Handling Units (CAHU), BG3 Partial Flow Dilution (PDF) engine particulate emissions sampling technology, our advance FuelTrak fuel flow measurement instrumentation, and our ExhaustTrak raw exhaust flow meter.
View all global Sierra CP locations.