Fiberglass insulation manufacturing is almost akin to making cotton candy! A mixture of silica and other components are melted and passed through a spinning extruder, then rapidly cooled with compressed air.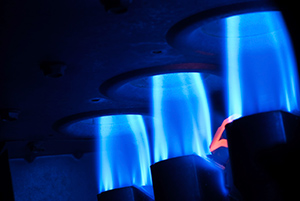 As older fiberglass manufacturing plants have demonstrated, manual control of air and natural gas flow to the burners used to melt the initial mix, results in unacceptable levels of rejected material, as well as excessive gas consumption. Process engineers at a fiberglass manufacturing company in the Southwest were seeking methods to improve fiberglass quality, reduce raw material waste, and increase production capacity, all while keeping the measurement and control system as simple and economical as possible.
They were faced with some unique application challenges. They used existing piping of various diameters to carry the natural gas, combustion air, and compressed air used to cool and chop the fiberglass fibers. The application also varied with the grade of fiberglass insulation being produced, so the manufacturing process required a great deal of flexibility on gas flow rate, temperature, and pressure. In combustion temperature control, the temperature is directly dependent on the ratio of natural gas to air. They determined that improving this combustion efficiency was the best way to attain the quality and production benefits they were seeking, and turned to Sierra for a simple and economical solution.
Sierra's Solution
Of course, the most elegant solution for this challenging application is a single flow meter that can provide a very accurate measurement under all these varying conditions. Sierra's new
QuadraTherm 640i
filled the bill!
Sierra's new QuadraTherm® 640i marks a breakthrough in thermal dispersion technology. With its sensor design advancements, coupled with a proprietary qTherm "Brain" capable of Dial-a-Gas and Dial-a-Pipe, the QuadraTherm 640i/780i Series achieves mass flow measurement accuracy of +/- 0.5% of reading (780i), ideal for the kind of tough industrial applications represented by the fiberglass manufacturing process.
Here's what makes Sierra's QuadraTherm 640i an ideal choice: