CeraMem Corporation is a developer of metal oxide gas concentration sensors in Waltham, MA. Their test engineers required mass flow controllers that were easy to intregrate and calibrate. They also demanded fast response and high accuracy in order to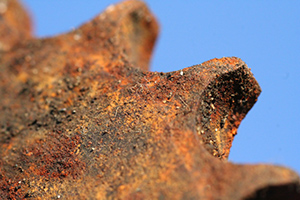 reduce test cycle length and improve the quality of the data.
Test station requirements demanded that controllers were capable of adjusting ratios for up to eight gas sensors at once in automatic mode without the need of an operator.
SIERRA'S SOLUTION
CeraMem selected Sierra's SideTrak® 840 mass flow controllers for their automated test station. The automated ratio control of gas flow they provided allows for unattended operation of the test process. The MFCs' fast response to commanded setpoint changes enhanced the data needed for quantitative sensor analysis.
The automated test station now could allow up to eight toxic gas sensors to be characterized at once. The sensor chamber was designed to allow test substrates to be quickly loaded and unloaded. A Labview™ interface was used to monitor the response of the sensors and to control test conditions, including gas concentrations, gas mass flow rates, relative humidity and test sensor temperature.
Three test gases, CO, CH4 and NH3, are used in varying concentrations and diluted with a fourth cylinder of dry air to test the sensitivity and selectivity of the sensor. Gas mass flow rates were now controlled by the 840, which was powered by the Flo-Box™ multi-channel electronics. The dry air line was split and controlled with two 840s — one line entering the main gas stream, and the other through a water bath, adding water vapor to that stream.
Water temperature in the bath was controlled using an Omega setpoint controller, coupled with a two-liter heating mantle. Relative humidity was varied during the test by controlling the bubbler temperature and the ratio of dry to humid air. Gas concentrations are also varied during the test to determine the lowest detection limits of the sensor. To prevent backflow contamination, check-valves are placed in each line upstream of the sensor chamber. A side stream of dry air is also used to purge flammable or toxic gases before changing gas cylinders or system components.
The SideTrak 840 and the Flow-Box electronics are specified and calibrated as a system to simplify installation and ensure system accuracy. The instruments ease of integration, fast-response and accuracy has helped CeraMem test engineers reduce test cycle length and improve the quality of test data.
Here's what makes Sierra's SideTrak 840 an ideal choice:
One of the worlds most dependable analog mass flow controllers
Precise primary standard calibration to measure any clean, dry gas with low pressure drop
Highly accurate for oxygen, mixtures, toxics, corrosives and combustibles
Widely used in process control, leak detection, gas distribution and scientific research