According to Dr. James Barry, a Benthic biologist and senior scientist at Monterey Bay Research Institue (MBARI), about a third of the human CO2 gas emissions in our atmosphere is absorbed by the ocean, making the ocean 30% more acidic than just 100 years ago—a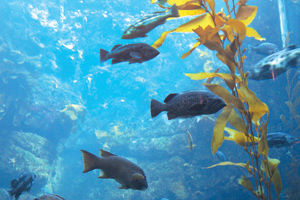 process known as "ocean acidification."
In his experiments, Dr. Barry and his team use mass flow controllers to control mixtures of O2, N2 and CO2 that flow into his aquarium tanks. Conditions are varied to simulate past, present, and future ocean conditions. He measures development, growth and physiological responses to the CO2 stress of the marine animals in these aquarium tanks. Early in his experiments, Dr. Barry was unhappy with the inconsistent data he was getting from his flow meters. Precious research time was lost recalibrating the instruments and laboriously adjusting flow rates on a daily basis.
SIERRA'S SOLUTION
Intrigued by the Sierra SmarkTrak® 100's unique Pilot Module with Dial-a-Gas® capabilities, Dr. Barry and his team made a switch to Sierra flow meters in 2005. With the stroke of a button on the Pilot Module, Dr. Barry was able to change his CO2, N2 and O2 flow rates instantly and remotely, creating many varieties of oceanic atmospheres in his tanks with the same set of conditions—same water, temperature, and animals.
Now he was able to simply plug his remote handheld Pilot Module into any one of his nine SmartTrak 100's, make a change in the gas flow rate (thus creating another atmosphere), and his new gas flow settings deliver at a rate that will not deviate. If he wants to change his atmosphere again by entering new flow rates, it takes only seconds.
"With the SmartTrak 100, it couldn't be easier––and faster," says Barry. And this is what scientists value most–– time to concentrate on their research work, rather than adjusting instruments.
Here's what makes Sierra's SmartTrak 100 an ideal choice:
Control up to ten gases with a single instrument using the Dial-a-Gas feature
Pilot Module allows full read/set of all variables in the field
Industry-leading powerful frictionless-hovering control valve for strength and flexibility
Highly accurate digital mass flow control