In the early 1970¹s, the U.S. Environmental Protection Agency (EPA) was formed in response to growing concern about air quality. The EPA developed emissions regulations that targeted the carcinogenic impact of engine exhaust, and set tough regulatory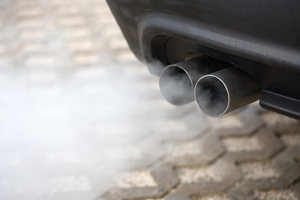 standards for manufacturers to develop cleaner engines.
Engine makers needed an instrument that could accurately measure the quantity of particulate pollution produced in engine exhaust to meet the regulatory standard. Throughout the 1980's, expensive and cumbersome full-flow constant volume sampling (CVS) systems, the size of a city bus, were the only measuring device the EPA would accept data from.
SIERRA'S SOLUTION
Rob Graze, Senior Engineering Specialist at Caterpillar, contacted Sierra in 1991 with a proposition. Familiar with the successful relationship Sierra had forged with Caterpillar in the 1980's, Graze suggested a new exclusive instrument development partnership based on his new patented Partial Flow Dilution Tunnel design.
With a strong background in particulate measurement and flow, Sierra saw great potential in the new relationship with Caterpillar. Within twelve months, the new BG®1, a highly efficient and accurate Partial Flow Sampling System (PFSS) no larger than a household refrigerator, was testing non-road engines at Caterpillar for a fraction of the cost of traditional CVS systems.
Three years later, Sierra introduced the Model BG®2. Upgraded software greatly enhanced its ability to perform precise and accurate steady-state particulate measurements. In 2002, Sierra teamed with technology partners Caterpillar and CP Engineering again to successfully develop the BG®3, a revolutionary PFSS advancement that was aimed towards tougher 2007 and Tier 4 emissions standards that mandated both steady state measurements for non-road engines and transient measurements for the much larger on-road diesel market.
Sufficiently impressed with both its accuracy and repeatability, the United States EPA certified Sierra's BG3 in 2005 for use by Caterpillar in the certification and compliance of on-road engines to 2005 standards, thereby eliminating for the first time the need for expensive and cumbersome full-flow CVS systems.
The EPA worked exclusively over the last five years with Sierra on a BG3 vs CVS multiple engine correlation study in an effort to get Partial Flow Dilution included in the Federal Register as a legal alternative method to CVS in 40 CFR part 1065. On November 8, 2010 a Direct Final Rule enabling this to happen was published in the Federal Register.
The Direct Final Rule became law on January 7, 2011 and is considered to be an historic industry turning point by opening the door to greater engine testing productivity to all Heavy Duty as well as the Light Duty Vehicle manufacturers.
Here's what makes Sierra's BG 3 an ideal choice:
A highly economical replacement for CVS systems; approximately 1/10th the cost
Annual electricity usage versus a CVS is approximately 1/20th the cost
Can be used on engines of any size and on any fuel, in both engine and chassis test cells
Portable from cell to cell
Zero-loss dilution tunnel
Satisfies all ISO 8178, ISO 16183, 40 CFR 1065 and CFR part 98 requirements
Ability to do simultaneous pre and post catalyst and/or diesel particulate filter research