Flexibility with Adjustable Liquid Flow Switches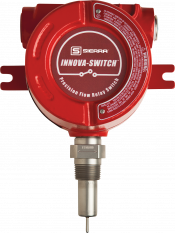 Get state-of-the-art gas and liquid flow switch, applicable for hazardous environments, along with high temperatures, all with fast response times. Sierra's InnovaSwitch flow switches represent advanced electronic technology in gaseous and liquid flow switching. InnovaSwitch was designed to meet a broad range of performance and environmental application requirements. The sensor and other wetted materials of this industrial liquid flow switch are 316L stainless steel and feature all-welded construction with no moving parts.
Liquid Flow Switch for Reliable, Low-Maintenance Performance
The InnovaSwitch is easy to install and adjustable, giving reliable, low-flow, low-maintenance performance in the most demanding applications. Liquid flow switch uses a high-resolution thermal differential technique.
The sensor of our industrial liquid flow switches consists of a pair of matched Resistance Temperature Detectors (RTDs). The result is reliable, yet adjustable, liquid flow switch reading control in any heavy industrial applications:
Pump protection
Cooling water/heat exchangers
Oil well system testing
Relief valve monitoring
Chemical injection
HVAC monitoring
Reverse pressure detection
Valve switching verification
Choose your electronic liquid flow switch for easier management of liquids in heavy industrial environments. Learn more or request a quote today.