Digital Control/Readout and Power Supplies
FloBox™ 951 & 954
The FloBox950 Series includes a compact, single-channel device and a deluxe, multi-channel device for operation of up to four mass flow instruments. The 950 Series is designed for use with the Sierra 830 & 840 instruments, but can be used on any brand of mass flow meter or controller. Both of these powerful digital systems supply power (+/- 15 VDC), display the flow rate, and offer set point control for mass flow controllers.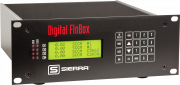 Digitize Up to Four Analog Mass Flow Controllers
Digitize up to four analog mass flow controllers
Add feature-packed digital performance to analog MFCs
Easy-to-use large pushbutton digital display
Conveniently power up to four units
Independent totalizers and alarms
For fast delivery, buy online, next-day shipment
We're sorry, your filter request has no results. Please try again.