Water Resistant Industrial OEM Thermal Mass Flow Meters & Controllers
RedyIndustrial
Meet industrial OEM mass flow control requirements with NEMA 6 & IP67 ratings
ATEX Certification (Category 3 / Zone 2 & 22)
Increase efficiency with accurate and reliable flow control
Competitive OEM pricing- cost-effective solution
Ideal for washdown environments
No-drift sensor warranty
Content Sections:

Overview
Product Benefits
Specifications
Documents & Downloads
Applications

---
Overview
Industrial OEM MFC with MEMS Technology
Water Resistant. Stable. Cost-Effective.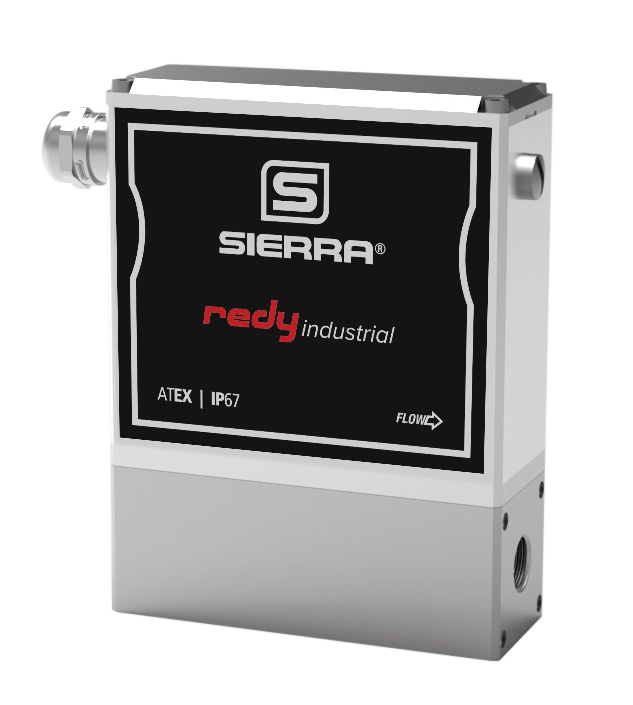 Engineers in the biopharmaceutical industry require precise control of the gases used in bioreactors. Sierra's RedyIndustrial thermal mass flow meter delivers optimized microbial growth that ensures exact mixing and distribution of the biomass.
Food and beverage manufacturers can expect the same precision. In fact, the RedyIndustrial provides all of the proven features of Sierra's RedySmart with the addition of a water-resistant housing that allows you to hose it down.
The economical RedyIndustrial meters and controllers contain no moving parts and are unaffected by upstream temperature and pressure fluctuations. The resulting accuracy and repeatability make them the ultimate MFC for OEM applications.
Benefit from a compact footprint, easy integration onto a cost-effective gas mixing block, IP67 and ATEX approvals, and a wide array of communications protocols.
No one makes YOU Smarter
Lifetime No-Drift Sensor Warranty
RedyIndustrial's Lifetime No-Drift Sensor Warranty employs high-precision MEMS (Micro-Electro-Mechanical Systems) technology. It utilizes an advanced, ultra-stable no-drift CMOS (Complementary Metal Oxide Semiconductor) sensor. The MEMS no-drift sensor warranty is a huge competitive advantage in OEM applications where long term stability is key. Sierra defines no-drift as less than 1% of full scale over the life of the instrument. Therefore, if drift of greater than 1% of full scale occurs over the sensor's lifetime, the sensor and/or entire instrument will be repaired or replaced and recalibrated free of charge. See Warranty Statement.
The use of MEMS techniques allow both electronic circuits and mechanical devices to be manufactured on a silicon chip, similar to the process used for integrated circuits.
Product Benefits
Proven, reliable, and repeatable gas flow control for industrial scientific OEM applications
Ideal for washdown environments
High Accuracy: up to ± 0.3% of full scale + ±0.5% of reading
± 1.0% of full scale (standard accuracy)
IP67/NEMA 6 Rating, ATEX Certification (Category 3 / Zone 2 & 22) standard
MEMS sensor stability-Lifetime no-drift sensor warranty - if drift occurs, instrument will be repaired or replaced free of charge
Optimized for gas flow measurement for Food & Beverage, Pharma, BioTech, Fuel Cell development, and Photonics
Available with different connection types: Cable gland with compression fitting or optional M12 plug on top
Analog & Digital Communications: Modbus RTU and analog interface-standard
o Optional: Profibus, Profinet RT, and EtherCAT
User-friendly RedySmart Interface Portal Software
Direct mass flow with thermal technology- Measurements are insensitive to pressure and temperature changes
Economical high-performance mass flow meter for industrial OEM applications
Small footprint, compact construction
Economical alternative for BioPharma applications
Multigas option — One meter or controller can be used for up to 10 different gases or gas mixtures
Specifications
Air, O2(2), N2(2), He, Ar, CO2, H2, CH4, C3H8 standard, other gases and gas mixtures on request
Accuracy:
High Accuracy: up to ± 0.3% of full scale + ± 0.5% of reading / Turndown 1:100
Standard: ± 1.0% of full scale / Turndown 1:50
Repeatability: ± 0.2% of full scale (according to SEMI standard E56-0309)
Flow ranges 0-450 slpm
Operating Pressure: 0.2 — 11 bar a (GIC with valve type 4.5 and 8 max. 8 bar a)
Gas/ambient temperature
Response time:
Meter (GIM): ± 80ms*; Controller (GIC): ± 500ms*
*depending on device configuration & according to SEMI standard E17-1011, 5-100% of range under optimized conditions
24 Vdc (18 — 30 Vdc), 15 Vdc on request
Digital Communications: RS-485; Modbus RTU 2 wire (Slave); Lab View-VIs available Option: ProfiBus DP-V0, DP-V1 / Profinet RT / EtherCAT
IP67/NEMA 6 & ATEX Approvals
CE Approved