Official Blog of Sierra--Let's Talk Flow!
Sierra's Precision Control Valves Offer Customers Proven Solution
---
Jun 01, 2015
What took us so long! Since the '80s Sierra has been a leader in designing and manufacturing electromagnetic control valves used in our flagship SmartTrak mass flow controllers and legacy 800 series. The catch is that in the past customers had to buy the mass flow controller to capitalize on our precision control valve. Now, after 30+ years of field-proven technology, customers can purchase the SmartVO, our stand-alone precision gas control valves at a lower price point and smaller footprint than our SmartTrak line.
In many analytical and laboratory applications, our customers require 5 mass flow controllers in a cabinet and 50 gas control valves. Now customers can get the complete turnkey solution for precision gas flow control from Sierra which saves customers time in installation, usability, and integration.
Control Valve Advantages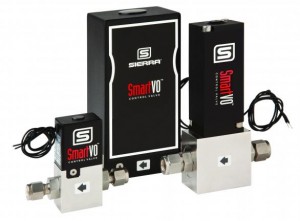 Mass flow control is only as accurate as the valve controlling the flow of the gas stream being measured. SmartVO gas flow control valves:


Offer precision gas control over a wide range of flow rates from 0 to 50 sccm up to 1000 slpm


Control gas mass flow rates with pressures up to 5000 psig (345 barg) with ValFlex™ high-pressure valve seat


Operate over a wide pressure differential range from 0 to 5000 psig (345 barg)


Control all clean gases, including corrosives and toxics


Feature bubble-tight shutoff for no virtual leaks


Available in a wide range of fitting and elastomer configurations


Include aluminum, 316L and 416 stainless-steel construction


When integrated with a flow sensor, or pressure transducer, and a proportional electronic controller, SmartVO control valves are capable of providing steady and precise control of gas flow rates or pressures. For multiple applications or system pressure design changes, you can even locally adjust response characteristics on our SmartVO control valves, saving you time in the field.
Learn more about Sierra's line of SmartVO gas flow control valves.
---