Official Blog of Sierra--Let's Talk Flow!
Choosing a Flow Meter as Tough as Corrosive Gas
---
Mar 23, 2012
One of the interesting trends we have seen in the Bio/Pharm and general scientific research markets is the many people who want to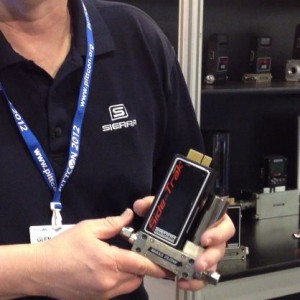 measure and control corrosive gases. This has always been a tough application, but there are a few ways that we can help you be successful. The ideal flowmeter is the SideTrak 840, built with proper elastomers and valve seat material based on gas compatibility (we will assure compatibility for you).
Our 840 has been our go-to product for decades because of its large capillary sensor tube which, due to its large diameter capillary sensor tube (up to 3-4 times larger than the industry standard) is very resistant to corrosive gases.  Designed for relatively dirty gases, a completely unique feature of the 840 is the ability to unscrew two ports at either end of the sensor and properly clean out the sensor in the rare case something does happen.
In addition to the large sensor, the major key to assuring long-term performance is assuring the gas is very dry. We have found that the vast majority of corrosive gas customers usually have a very good handle on the moisture content of their gas.
Try the SideTrak® 840 – Analog Mass Flow Controller for your tough next corrosive gas application.
---