Official Blog of Sierra--Let's Talk Flow!
ACHEMA 2018: An Eye On the Future
---
Jul 03, 2018
The spirit of ACHEMA 2018 can be summed up in three words: reimagine, capitalize, and prepare for the future. ACHEMA was all about seizing the potential opportunities that Industry 4.0  or IIoT (Industrial Internet of Things) can bring to the chemical and process industries. Industry 4.0 is the current trend of automation and data exchange in manufacturing technologies – a mix of cyber-physical systems, IIoT, cloud computing and cognitive computing. Simply put- new levels of analysis to provide a truly productive process.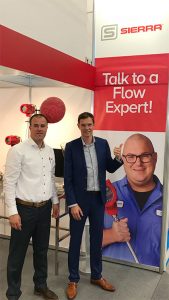 ACHEMA was both a validation and confirmation that Sierra is going in the right direction. Sierra is already moving on all of these trends, Sierra no longer just builds a "thing." We believe flow measurement solutions need to "live" and communicate with all other devices around the facility site to create value for our customers.
While not all flow meters are industry 4.0 ready yet, the industry is getting there fast. At heart, some of the newest flow meters and controllers are fulfilling the promise of Industry 4.0 with their ability to talk to the manufacturing process and automate their key function- measuring and control of gas flow- and then communicating that information so that a plant monitors (perhaps someday even the plant's AI, the Artificial Intelligence) can make informed decisions about the process.
To that end, we showcased our Big-3™ one flow energy solution for optimizing and measuring nearly every critical and costly flow found in the chemical and process industry. An integrated solution to measure all flow data points of your facility. 
The Big-3 features QuadraTherm 640i/780i thermal flow meters, InnovaMass 240i/241i vortex flow meters, and the InnovaSonic 207i ultrasonic flow meter. The Big-3 share the same revolutionary Raptor firmware and many of the same software apps. They are a complete flow energy solution for flows like compressed air, natural gas, steam, and hot and chilled water. Together, they set a new standard in ease-of-purchase, performance, accuracy, reliability, and ease of use.
We look forward to the opportunities Industry 4.0 brings and continuing to provide innovative solutions to our customers in the years to come.
---