Official Blog of Sierra--Let's Talk Flow!
How to Select the Best Online Flow Meter Company
---
May 29, 2013
In an industry that's slow to warm to the new trends of e-commerce—including ordering products straight from our hand-held devices!—the scientific measurement and control market is slowly turning the corner. Even though flow instrumentation has been around for years to help research scientists, this evolving e-commerce trend is giving customers access to highly customized flow measurement and control instrumentation online.
In response, we've adapted our business model to offer you, our customer, the ability to order highly customized instrumentation from your computer or tablet with our online store.  Since more and more our customers are demanding fast delivery of flow instrumentation,  we stock, for next day shipping, a wide range of fully-calibrated in stock products.  Just as Sierra is on the cutting edge of flow meter technology,  we also want to be on the cutting edge of providing top-notch customer service to you in the form of easy, online ordering.
While many flow meter companies have hopped on the e-commerce bandwagon, not all online stores are created equal. In fact, there are several things to consider when you decide where to shop for quality flow meter products  online. What to look for:


Factory Direct. Is the company a third party broker or a flow expert offering product shipped directly from the factory?


Ease of Use. Is the company's website easy to navigate? Can you find the products you need quickly and efficiently?


Product Selection. Does the online store feature a wide variety products to meet your needs?


In-Stock Products. Does the company have the products you need in stock? Can they promise next-day shipping?


Live Support. Does the company offer product support with the click of a button or quick phone call?


Sierra offers all of these things and more. We offer the expertise of factory support, not third party brokers who sell many different technologies. We have a website that's user friendly, easy to specify products or order from stock. We have the products you need, when you need them. We offer fast, next-day shipping of fully calibrated in stock mass flow controllers and meters. We have a dedicated technical support team that can even provide real-time, online support. So the next time you need to order flow meter equipment, don't fill out a mountain of paperwork and wait three weeks—think SHOP ONLINE at Sierra Instruments.
 To show our personal, factory direct touch check out, John, one of our engineers who is always here to help: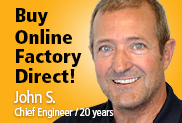 ---