Official Blog of Sierra--Let's Talk Flow!
Innovation @ Sierra
---
Dec 16, 2013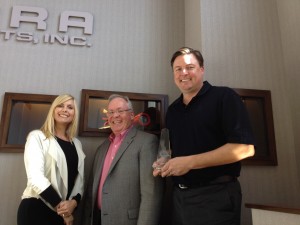 We recently had the honor of hosting Flow Control Magazine Publisher Mike Christian, who made the trip to Sierra headquarters in Monterey, Calif., to present our 10th Flow Control Innovation Award in person. Pictured right is me, Mike and our President, Matthew Olin holding the crystal award.  We are standing in the lobby of corporate headquarters and the QuadraTherm 640i, our flowmeter that won the innovation award this year, can be seen in the display case behind us.
This recognition got me thinking about innovation at Sierra: It's really what drives us to meet our customers' flow meter needs. So, I thought I'd go straight to the source and ask what being innovative means to our engineers.  Two of our engineers shared the following:
Morgan-Manufacturing Engineer
I view innovation as the fresh application of old ideas to bring about a new product that improves upon the original.


It's not about inventing the wheel, but about reinventing that wheel by using known technologies.


Without being improved upon, old ideas tend to become antiquated.


Science never changes, but technology, especially in the area of flow meter advancement, does. That's where innovation comes in.


Without innovation, there is no advanced way to measure flow, control it and deal with variable compositions, variable pressures and sub-par gaseous behaviors (like CO2!).


Fresh uses of old, but proven, science is the best way to update and improve a product or method of production.


Kam-Director of Engineering
Innovation is really about solving problems with a new approach.


To innovate does not mean changing a design or process just for marketing's sake.


There is no size limit on innovation; it can be as small as a redesign of an internal screw on a particular flow meter, or as large as a new sensor probe design.


Innovation is not just limited to the products themselves; it could be enhancements to a company's website to allow for better customer interaction.


As I was leaving the Engineering Technical Center here at Sierra, our President just happend to be heading in for one of his frequent sessions with his engineering team.  So, I stopped him and asked him what he thought about innovation.  What he told me pretty much summed it up.
Matthew-Sierra's President


Innovation is not the "What we do".  It is not the "How we do it".  It is the "Why", it is at the core of our purpose.


I try to foster a family-style open atmosphere that is about sharing ideas as if it we were at the dinner table; having fun with innovation and creativity.


We actually have an innovation budget to fund "out of the box" ideas and experiments that have the potential to improve our product and customer experience.


Sometimes the best innovations seem obvious and make you say – why didn't I think of that.


Getting our 10th Flow Control Magazine innovation award is evidence of our innovative culture.


We also benchmark that 25% of our sales in a given year should be features or products that are three years old or less.  In 2013, we were at 33%, that's good because it shows you that our innovation is hitting the mark with customers.


Need a flow meter measurement problem solved? We're always up to the challenge. Contact us for more information on our award-winning flow meter solutions.
---