Official Blog of Sierra--Let's Talk Flow!
Thermal Mass Flow Meters Offer Oil & Gas Companies Lowest Cost of Ownership
---
Aug 28, 2015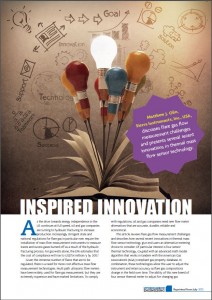 The Wall Street Journal recently reported that oil prices have hit a rock bottom $40 a barrel, the lowest since 2009. How does this affect the oil companies? Well, the consumer gets the benefit of the low pump price which does loosen discretionary spending, but the oil & gas companies are hurting-spending less money on capital investment due to tightened budgets. Flow meter manufacturers are feeling this pinch because oil & gas companies are just not driven to spend money on upstream oil & gas flow meter applications.
Luckily, recent Sierra thermal mass flow innovation with the QuadraTherm 640i/780i with qMix gas mixing softward offers oil and gas companies a cost-effective solution for upstream oil and gas applications like flare gas measurement, vapor recovery units, and storage vessels.
CEO of Sierra, Mattnew Olin,  explores in the July 2015 issue of Hydrocarbon Engineering magazine how QuadraTherm thermal mass flow meters with qMix gas composition adjustment are now a real alternative to ultrasonic flow meters and offer oil & gas companies the lowest cost of ownership to measure flare gas in upstream oil applications.
The article summarizes:
1. How gas composition changes in the flare making it very difficult for some flow meter technologies to remain accurate without factory recalibration
2. The total cost of ownership between competing technologies
3. How qMix gas mixing software allows users to create and upload a new gas composition in the field-without factory recalibration. Learn More.
In this tough market, oil & gas companies appreciate the flow instrument with the lowest cost of ownership to get the desired results. This is why Sierra's innovations with the QuadraTherm 640i/780i with qMix couldn't come at a better time.
To find out more about QuadraTherm and precision flare gas measurement, read the full article today .
---