Monterey, CA — June 15, 2012
— Sierra Instruments has just announced that they will be featuring a live demonstration of their Smart-Trak
®
100 and 50 Series
mass flow controllers
at Achema in Frankfurt am Maim, Germany, June 18-22. The live demonstration will showcase the SmartTrak Series flow control capabilities by controlling the amount of air flow into three separate water streams as part of a larger demonstration given by its longtime German distributor Schwing.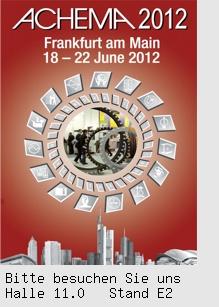 "The result of over a decade of user feedback on earlier versions, our 100 Series mass flow meters and controllers deliver the kind of intelligent control, independence and flexibility that leading companies and growth enterprises will need to take advantage of the huge opportunities we see on the horizon," says Matthew J. Olin, Sierra's President. "And our 50 Series is ideal for OEMs. They share the same advanced core sensor technology as the 100 Series, but they are now available at nearly half the price."
Reliable, stable and smooth gas mass flow control is now within reach as a result of the proprietary Sierra Frictionless-Hovering Valve Technology™ inside every SmartTrak 100 and 50. Users can experience the most advanced direct-acting control valve available, and unlike other valves, it has shut-off capability.
With Sierra's SmartTrak 100 Series, you can independently adjust calibration in the field for any of the 10 pre-programmed Dial-A-Gas® gasses. The user-friendly Pilot Module control/readout interface lets you view and adjust critical control functions at any time.
The performance/price advantage of the Sierra 50 Series was made possible by reducing the number of mass flow controller parts by almost 50% and automating calibration around slightly reduced accuracy. Their modular design means you can add communications, displays or future functionality as you need it. Sierra has also been able to streamline delivery by stocking the seven most common flow ranges. OEM's that buy in volume will see deeper price reductions.
Learn more about the SmartTrak 100 and SmartTrak 50 here.
Attendees at Achema are invited to visit Schwing/Sierra's booth in Hall 11.0 Booth E2 for a live demonstration of the SmartTrak 100 and 50.
ABOUT SIERRA
A global leader in flow measurement and control for over 40 years, Sierra instruments designs and manufactures high performance flow instrumentation for gas, liquid and steam applications commonly found in the pharmaceutical, scientific research, health, energy and semi-conductor industries. With over 150 offices in 50 countries, Sierra is uniquely positioned to provide their innovative products and lifetime support for the leading companies of today and the growth enterprises of tomorrow.