Food, beverage and pharmaceutical industries requiring the regulation of air and gas flows have historically faced the challenge of obtaining highly accurate measurements in rugged factory environments. Within the last two decades, thermal mass flow controllers have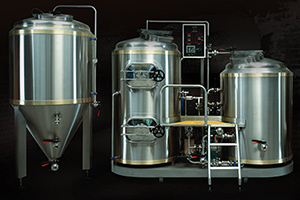 overcome the shortcomings of volumetric approaches and demonstrated precise accuracy. With the advent of industrial gas mass flow controllers with fully enclosed valve designs, modern industrial environments have more fully benefited from air and gas flow regulation.
As much art as it is science, beer making has long benefited from the wisdom of brewmasters. From ancient times, their experience provided the knowledge necessary to create recipes capable of fermenting into the finest beers. In the modern era, the shift from producing for the needs of locals to large scale beer production has required significant changes in regulating ingredients in order to maintain traditional boutique quality.
SIERRA'S SOLUTION
In early 2006, deep in the Belgian forests in a thousand year old Trappist Monastery, the brewmaster at Orval Brewery was looking for the secret to more stable foam. Ghislain Piot, a sales agent for Sierra products, offered his help. Already familiar with the successful application of Sierra mass flow controllers at Heineken, Europe's largest brewer, he suggested they install the MaxTrak® 180, Sierra's newest industrial mass flow controller, to gently add Nitrogen to what beer experts worldwide regard as liquid gold. Precise accuracy and repeatability, remote monitoring, and rugged wash down protection made it the ideal choice.
For the brewmaster who cares for Orval's precious ale, the Sierra MaxTrak has become a source of considerable happiness. Not only were they able to achieve the perfect head of foam, but in addition to many other applications, the flow controller's Dial-A-Gas® capability has become extremely valuable in achieving optimum aeration during fermentation, valuable enough for them to make MaxTrak an integral part of their brewing process.
Here's what makes Sierra's MaxTrak 180 an ideal choice:
Dial-A-Gas® multi-gas capability
316 stainless steel construction
4 types of analog and 2 types of digital communication
Wide variety of field adjustable parameters
Compact sizes to measure and control flow rates from 10 to 1000 SLPM
(higher upon request)